It's critical to be able to trust the people who make your wines. Trust that they know exactly what to do when the weather does unpredictable nasty things, Drought is tough; fires are worse. Too much rain is rot. Hail is the worst as it can damage both the grapes and the vines. You want to trust that your winemakers know how to bring the beauty out of the grapes under their care no matter what the weather does. How to choose the right casks for aging their wines. How long is just the right length of time to let the wine mature.
Dutton-Goldfield is one of the good guys in that regard. You can feel confident trusting them when you're looking for an above-average wine to complement your particular dish or impress your neighbors or cap off a special occasion. We are delighted to remark upon a few of their recent wines.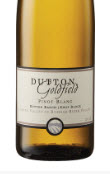 Dutton Ranch – Shop Block 2021 Pinot Blanc. Situated in the valley of Purrington Creek, a tributary of Green Valley Creek, this spot is where cold coastal air lingers through the mornings and nurtures grapes with fresh acidity and deep flavor. Inhale the super fresh white peach aromas while Bartlett pear, lily of the valley, and pink grapefruit zest round out the nose. The holidays are a great time to indulge yourself with this 5-star beauty. Great by itself but also think pairings like salads and seafood to quiches and pasta and almost any cheese. Thank you, winemaker Dan Goldfield. Alc. 13.3% SRP ~$33.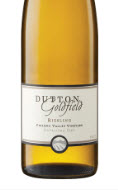 2020 Chileno Valley Vineyard Riesling. This perfect dry Riesling partner for seafood The mouth is creamy and zesty at the same time, with flavors of key lime pie, white grapefruit, kiwi, and pear. There's a great energy to the wine, letting you know this will be a wine that will evolve for many years to come before it finishes with a kiss of ocean air and oyster shells. Try it with fresh sushi or sashimi, raw oysters with a mignonette sauce, clam chowder, and steamed mussels. Fresh young cheeses would make a great match, like burrata, ricotta, goat, and feta.. Alc. 12.9% SRP ~$40
2021 Rosé of Pinot Noir. An elegant and sophisticated wine. In the mouth, creaminess combines with the strawberry and citrus core. Stone fruit, melon, and candy apple notes add to the fruit party, with a touch of grapefruit peel giving the wine a zesty flair. The finish is lively and succulent, making your mouth water for the next sip. Try it as an aperitif or pair it with especially wonderful with a charcuterie board, fresh young cheeses, chicken salad, clams, and grilled halibut. Alc. 14.1% SRP ~$33