Dark wood surroundings. Unique architectural touches. Multiple inviting private spaces. They're all a big part of what goes on at Victory Tap,  1416 S. Michigan Ave., in Chicago's South Loop., along a booming section of the street where new condos are going up at  rapid clip. The ambiance is comfortable and classy, and the food is the star. Chef Joe Farina brings his years of experience in venerable Chicago Italian kitchens like Rosebud to this new incarnation of Italian-cum-fine dining establishment.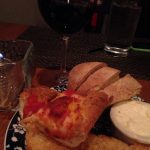 You start with a plate of mixed bread items, all of which are tempting enough to get you full before the main course arrives – crusty, chewy Italian bread, chunks of pizza and more with a plate of olive oil or fresh, cold butter, as you desire.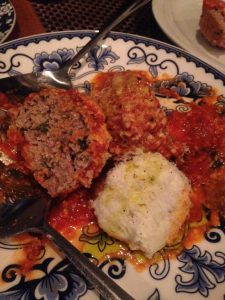 Joe's Mama's meatballs are a star item on the menu. Pronounced by my meatball aficionado companion as utterly divine. Big, fluffy spheres studded with bright fresh parsley, these gems come in Chef Joe Farina's unique marinara sauce and are fit for Italian royalty. We started with an order of these meatballs and loved that they were served with a big scoop of olive-oil-enhanced, whipped ricotta cheese on the side. These tender, juicy meatballs in the succulent marinara sauce make a delicious and satisfying main course, even without a helping of one of Victory Tap's housemade pastas, of which there are many varieties.
In fact, the meatballs are so good the restaurant has decided to take them on the road so you can buy them even closer to home. Our server Bobby shared his enthusiasm for Victory Tap, Chef Farina and the food and told us he is the one who will be marketing the meatballs to  major retail outlets like Mariano's and other private and chain establishments. Look for them soon nearby.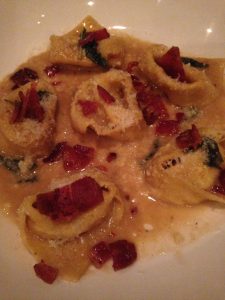 We also to tried the agnolotti pasta that won the first-ever-given People's Choice award at the Chicago Bacon Fest 2018. Delicious hand-shaped pasta filled with ricotta and Parmesan and topped with a rich, sage-infused browned butter sauce and sprinkled with thick chunks of cooked bacon. Rich and delicious, even the leftovers reheated in the microwave next day.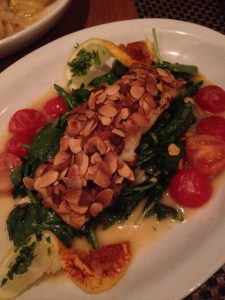 The housemade pastas, from linguine and lasagna to shells, ravioli and cavatelli, let you mix with shrimp, sausage, clam sauce, creamy vodka sauce and more. Items on the extensive Italian-inspired menu can be paired with any of the restaurant's carefully selected wines. Plus diners can choose from plenty of not-just-Italian dishes, including a generous selection of daily specials. On our visit, the almond-crusted sea bass daily special was a winner. Served perfectly broiled atop a bed of lightly steamed fresh spinach, it was bathed in a delicately tangy, citrus-perfumed lemon butter sauce that perfectly tied together the flavors of the fish, the spinach and the warm cherry tomato garnish. Oh, and they sell Armand's pizza in thin crust and pan versions.
The desserts we tried were excellent. Ricotta cheesecake was light yet rich, quite different and less fat. Served with whipped cream and a beautifully cut fresh strawberry garnish in a rich graham cracker crust. Tiramisu had a thick layer of  angelically light and creamy mascarpone with a perfect dusting of cocoa, all atop the coffee-enhanced cake.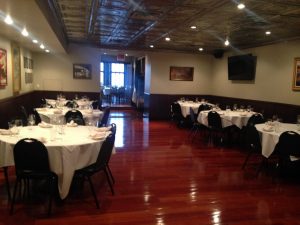 The restaurant is known for its catering and for convenient packages for private dining/parties. Upstair are several beautiful, dark-wood spaces that feel like you could be in someone's very elegant home. Great food, beautiful surroundings. A winning combination for sure. Restrooms are on the second floor, too, and there is an elevator located conveniently under the staircase, so no issues for partygoers or restaurant patrons who don't want to deal with stairs.
This is a place where you can feel at home, appreciate the service and enjoy the food over and over. We'll be back soon.