It starts months before. Chefs and culinary personalities across the country put on food and drink events in Chicago all year. Then comes the big weekend – that's now.
Last night Bon Appétit presents Chicago Gourmet opened with the traditional Hamburger Hop. Twenty chefs competed to create the hamburger with the most epicurean elan.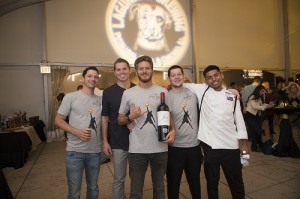 Chef Spike Mendelsohn of Good Stuff Eatery got *Judge's Choice for his "Prez Obama Burger," with red onion marmalade, gorgonzola crumbles and horseradish mayonnaise on a brioche bun.
The Chefs John Hogan & Tony Mantuano for their "Tête de Tête Burger," layered with house-made head cheese, onion pickle relish, tête de moine (gourmet Swiss cheese) and crispy pig skin on a yogurt roll. Attendees voted by dropping bottle caps into containers at their favorite chef's station.
A good time was had by all. And I hope you're out there today partaking of the expansive array of food and drink options in Chicago's biggest culinary celebration. If you're not, see if there are any tickets left for tomorrow.
If you're feeling flush, get a ticket for the Grand Cru. An unforgettable crush of fabulous wines and gourmet tastes.
* Judges included culinary experts Lin Brehmer (WXRT), Carla Hall (The Chew), Jeff Mauro (Sandwich King), Mario Rizzotti (Iron Chef America), Patrick O'Neill (Lagunitas Brewing Company) and Michael Gebert (Chicago Sun-Times).
Related articles