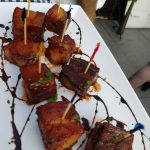 The boutique Ivy Hotel's cozy Sky Terrace rooftop space at 233 E. Ontario is good for enjoying their delicious drinks and apps outdoors without leaving the hotel. Don't often find pork belly so crispy and meaty and not-too-fatty.  Oh, and definitely check out their delicious popcorn-batter-coated shrimp!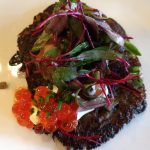 Who thinks about a brewery as a place to get delicious food? Surprise! Revolution Brewing, 3340 N. Kedzie Ave., recently put on a wonderful dinner to help Jameson's Irish Whiskey introduce its newest family members – Jameson Caskmates IPA Edition and Stout Edition. These new editions draw their unique flavors from spending a little vacation in the craft beer casks where Revolution makes some of its favorite beers. And while you're trying them, you just might fall in love with Revolution's braised lamb shank with beet risotto!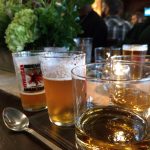 Jameson's, the famous Irish whiskey company, is taking a cue from the many wines and spirits that have begun to collaborate with each other to give their creations extra complexity. In the case of whiskey in beer barrels, the whiskey adopts some of the flavor characteristics of the beer that came before it. The Stout Edition adopts flavors of coffee, chocolate and butterscotch from the Stout seasoned barrels and gets a creamier texture from this treatment. Jameson Caskmates IPA Edition shows hints of fresh hops, grapefruit and some sweet herbal notes from the IPA beer barrels in which she finishes. Jameson Caskmates Fist City Pale Ale Edition results from a partnership with the passion of the masters at Revolution Brewing and the Irish soul of Jameson. This whiskey is truly representative of the dedication both companies practice in giving back to their own neighborhoods.
When you imbibe one of the lovely Caskmates, look for the smoothness of Jameson with the malt and citrus notes of the infamous Chicago Pale Ale. Your nose will detect an initial citrus character and some mild notes of honey and sweetness. The taste is full-bodied with hints of hops with both of vanilla and a toasted oak character. Enjoy the long lingering finish as the spices and hops fade slowly, with fruit and toasted oak notes holding out along with the signature Jameson smoothness. Questions? Call the folks at Revolution and they'll be sure to fill you in.