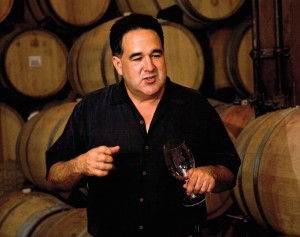 Tall, fit and handsome. Silver-tinged sideburns. Relaxed, warm and friendly. Mike Trujillo is the face ofSequoia Grove Winery—and the heart behind its unique wines. He exudes the same classic aura as the Sequoia Grove (SG) wines he personally oversees. It's nice to meet a winemaker in person—and a cool way to identify great wines.
Sequioa Grove Winery, created under the guidance of legendary Napa consultant Andre Tchelistcheff, nestles in a stand of redwoods in Napa Valley and has been creating wines since 1982 when Mike first joined the effort. Now the estate has truly flowered under his leadership as president and head winemaker.
A master winemaker in the making
Mike comes by his winemaking talent naturally. Having grown up helping his father on their 3000-acre farm in Colorado, he learned at an early age about how soil, climate, pests and critters affect living, growing plants. He first started out in college in an engineering program, so it never occurred to him he'd end up applying all his hard-earned farming knowledge to the fine art of winemaking. Now, 31 years after a fateful road trip, he's taking Sequoia Grove estate wines to new heights.
It all started one day when Mike and some buddies were on a break from college. During a road trip to Napa Valley destiny intervened when they were asked to help out in the cellar at Sequoia Grove where they were visiting. Out in the vineyards and living the life, Mike caught the wine bug—bad and, as it turns out, permanently.
Working closely with Tchelistcheff and the owner, Mike paid close attention as they refined Sequoia Grove's cabernets and chardonnays. Later he worked for a time on the Domaine Carneros estate. Realizing he was in the business for life, Mike enrolled at the University of California at Davis to study winemaking in that extension program. He says winemaking uses all the skills he developed both in farming and in engineering—planning and executing irrigation and designing and laying out the vineyards being among the biggest challenges.
Thinking big from the start, Mike launched his career by creating Karl Lawrence – his own brand of Cabernet wine. He was using SG facilities and building a following. Then in 2001 when the founder of SG retired and the Kopf family partners took over ownership, they recruited Mike to head the operation. His first goal was to incorporate some of the more modern approaches to winemaking. His dream was to make SG wines bigger, not in the sense of higher alcohol content but of being more expressive of their place of origin, the Rutherford Bench region of Napa Valley.
Secrets of a master winemaker
You couldn't ask for a better location than the soil of Rutherford and its micro-climate—what time of day the sun shines on the grapes, for example, and how the ocean affects them. So Mike spent the first few years upgrading the quality of the grapes. "You've got to have great grapes to make great wine," he said. He had acres replanted within a quarter mile of the winery, and he used the first new fruit from the Sequoia Grove vineyards in the Cabernet Sauvignon 2009 vintage. He also uses grapes from a few select trusted growers nearby, such as Gary Morisoli, Beckstoffer Vineyards, Healy Vineyards, Stagecoach Vineyards, and a few more. Mike said, "At Sequoia Grove, we concentrate on putting the bling in the bottle—and that starts in the vineyards."
Then there's the precise moment of picking. Do the grapes have that certain something? Only a well-developed instinct can tell you when they're right, and long experience deepens and broadens your knowledge. How tightly are the grapes clinging to the vines? When you shake the vines, how many grapes fall off? What do you do when it rains all season, or when an overwhelming influx of some insect or critter attacks your vines? The best answers aren't always the stuff you learn in school.
Next steps in the winemaking are crushing and pressing the fruit, skins and pulp, to create the must. Then fermentation, clarifying, aging and bottling. Takes a lot of experience to know when the flavor, aroma and color are perfect for your intended wine—tasting is essential at every step.
And then there's blending. Mike drew a simple arc and talked about how it's done (see photo). If there's a flavor in a wine that's too strong—represented by spikes rising above the arc—it can be fixed by blending with other wines. But when something is missing in a wine—some element falls below the curve—it's generally too late by this stage. Those kinds of weaknesses need to have been "fixed" by getting it right from the start, from soil to grapes to must and so on.
Re-imagining chardonnay
One of Mike's goals was to produce a unique Chardonnay. "I wanted to make a more food complementary wine," Mike said. His aim was to create a wine that "doesn't bombard you with butter and oak flavors before you get to the food." Instead he describes his 2009 vintage Carneros Chardonnay as establishing a "true partnership with the gourmet food you love to eat." With just a tiny touch of the sharpness of, for example, a sauvignon blanc, this lovely wine sits easy on the palate, gently inviting you to relax and enjoy the warm, soft, full flavor with your lobster or scallops. And since this Chardonnay comprises only 8% of their production, it's a special find.
Making the most of Cabernet Sauvignon
Mike's next goal was to work his magic on the grape this area of Napa is famed for—Cabernet Sauvignon. With contributions of several types of grapes from several Rutherford vineyards—Merlot, Cabernet Franc, Malbec and Petit Verdot—Mike makes a wine that is artfully blended each year and aged to produce the flavor and approachability you'll find in all their Cabernets.
While the Rutherford area of Napa is well-known for fine Cabernet wines like Silver Oak, SG's signature Napa Valley Cabernet continues to make its own high mark in the world of fine wines. Their 2009 vintage was a truly beautiful wine, and they made just over 17,000 cases for worldwide distribution, so we're talking a comparative treasure. You can get it at Chicago Cut Steakhouse and other fine Chicago restaurants (see ***list below).
A breakthrough in fine red wine
After a few years at the helm, Mike decided it was time to step way out of the box and create a wine that broke the rules. He selected the finest lots of a given vintage of Cabernet and then blended those with primarily Merlot and Cabernet Franc. Not quite enough Cabernet to be called a Cabernet (requires 75%), the new wine needed a name of its own. So Mike picked it: Cambium. The 2008 vintage is a wine that's impossibly complex and rich. You just want to let it caress your senses long after each sip—I've never had a wine before that kept talking to me all the way down. Yet it pairs beautifully with the prime aged beef and sweet, rich crab meat served at Chicago Cut—and works fabulously with their Bearnaise butter sauce and lightly sautéed fresh spinach, too.
Mike works with Molly Hill, his fellow SG winemaker, each year to create these deeply flavored, complex and satisfying wines. And when he's not tasting and tweaking—or training his daughter Sophia, age 7 (see photo) in the fine points of wine blending—Mike happily works with fellow winemakers and vintners in the area to foster the mission of the Rutherford Dust Society. Their goal is to promote only the highest quality in grapes and in wines and to strengthen people's connection with the soil and land of Rutherford that's so uniquely suited to these pursuits.
If you haven't tried a really special wine in a while, you can't go wrong with one of these Sequoia Grove beauties. And if you're visiting Napa Valley, Mike says Sequoia Grove is a really laid back place. Don't hesitate to stop by.
***Failing a trip to Rutherford, you can get some SG wines in the Chicago area at the fine restaurants listed below.
Chicago locations:
Hugo's, 1024 N. Rush St.
Chicago Yacht Club, 400 E. Monroe St.
Chicago Cut Steakhouse, 300 N. Lasalle St.
Rosebud on Rush, 55 E. Superior St.
Rosebud Prime, 1 S. Dearborn St.
Levy Restaurants, 1901 W. Madison St.
Gibsons Steak House, 1028 N. Rush St.
Sunda, 110 W. Illinois St.
Shulas Steak House, 301 E. North Water St.
Socca, 3301 N. Clark St.
Signature Room, 875 N. Michigan Ave.
Capitol Grill, 633 N. St. Clair St.
Suburban locations:
Bastas, Peoria Heights
Clubhouse, Oak Brook
Gibsons Bar & Steakhouse, Des Plaines
Gibsons Bar & Steakhouse, Oak Brook
Glen Oaks Country Club, Glen Ellyn
Riverside Golf Club, Riverside
Potters Place, Naperville
Mecenat, Western Springs