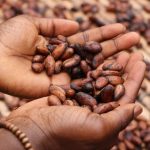 It's fun trying new products and sharing with you. Today we've got a bit of news about canned wine, and are introducing a new flavor from Round Barn Winery & Distillery in Michigan, along with a new brand of dark chocolate from South America by To'ak.
A recent surprising trend has single-serve, canned wines moving dramatically higher on the popularity scale. Convenience – undeniable. Less waste – you don't have to open a whole bottle of wine to enjoy a glass. Safety – no need to worry about glass breaking if you take your wine outside, on a picnic in your backyard or sitting in the audience to enjoy a concert in Millennium Park…hopefully one day soon again. Maybe this year for Mother's Day, plan a picnic on the living room floor!
Baroda, MI-based Round Barn Winery has added Raspberry Lemonade as the fifth flavor in its lineup of refreshing canned wine options. The new variety blends wine from the winery's proprietary grapes with natural raspberry and lemon concentrates to create a liquid refresher with a touch of carbonation and 5% alcohol. No high-fructose corn syrup, artificial colors or artificial flavors are used. Each 12-ounce can – somewhat misleadingly presented as two 6-ounce servings 'cuz who's gonna drink half a can? – contains 24 grams of sugar, 10 of which are added, so it's fairly heavy in sugar. But it also happily doesn't use any of the not-so-healthy artificial sweeteners. This new flavor is a very pleasant, slightly sweet, lightly fizzy drink with a delightful tang of raspberry and lemon that sparks your taste buds. Would make a lovely brunch cocktail, an aperitif or even a dessert wine – kind of like a Prosecco with a tangy edge to it or a mimosa with raspberry and lemon.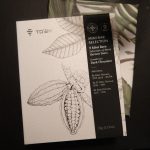 The chocolate is dark – full of antioxidants – and made by To'ak in a way that preserves the biodiversity of Ecuador, which they say is the birthplace of cacao. The sample we got came in three flavors that actually carry a "vintage," that is, the year in which the cacao was picked and made into chocolate. They even give you a little guide that tells you how to smell and taste, and it gives practice naming the taste sensations you experience. Just like your wine.
Rain Harvest 2015 Dark (80.5% cacao). Tasting notes say floral, woody, herbal, earthy, berries.
El Nino Harvest 2016 (78% cacao). Notes say ripe banana, mint, floral, earthy, berries.
Rain Harvest 2017 (70% cacao). Notes say pistachio, orange bitters, black cherries.
Perfect! Sparkling wine and chocolate for Mother's Day brunch!