Diabetes is a condition that affects every part of life, including one of the biggest parts of anyone's life – what you cook and eat. In the past, people living with diabetes didn't have a lot of guidance on how to make food that's good for them taste good. But lately, authors of all stripes are writing cookbooks with recipes that go for taste while honoring the special guidelines required for a diabetic-friendly regimen. Here are two for your consideration.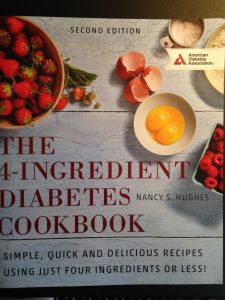 The 4-Ingredient Diabetes Cookbook: Simple, Quick and Delicious Recipes Using Just Four Ingredients or Less!, by Nancy S. Hughes. This cookbook is good for anyone who's in a hurry to make a decent meal without investing too much time and effort. The Salmon with Lemon-Thyme Slices (p.147) made a nice entree for family dinner, though I had to throw the fish in the microwave before serving because the length of time stated in the recipe left it mostly raw. Came out fine, then, and everyone enjoyed. You may find a few trusty treasures in this book that will become regular go-to recipes in your repertoire – like the Toasted Pecan and Apple Salad (p.75) or the Chicken Kale Salad with Fresh Ginger Dressing (p.36). Simple, simple, simple is the key – lots of grilled meat and poultry, tricks for fancying up ready-made salad dressings, and so on.
The section near the beginning of the book called "Make the Most of All Your Meals" has some great ideas for simplifying your cooking life and getting more out of what you do make. The "cook's tips" given on pages throughout the book either explain why the recipe is written as it is or give some good idea about how to make sure the dish turns out well. Every recipe gives full nutrition data as well as diabetic exchanges and choices. Occasionally you'll find good tips for substituting, e.g., instead of 1 teaspoon of honey you can use 1 teaspoon packed dark brown sugar and 1 teaspoon of water.
You'll probably notice as you page through the book that some of the recipes fudge a bit on the "4 ingredients only" claim in the title. But that's okay – ingredients like water, salt and pepper shouldn't have to count against the 4-rule anyway. In paperback ~$13 on Amazon.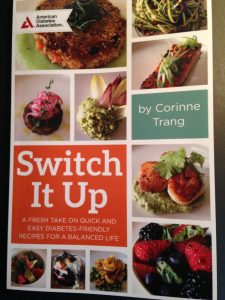 Switch It Up: A Fresh Take On Quick and Easy Diabetes-Friendly Recipes For a Balanced Life, by Corinne Trang. This book is for people who want to spend a little more time putting their food together and are willing to try new vegetables and combine different foods in some unique ways. The photographs are positively inspiring – they make you feel absolutely this food will be worth the time it takes to make. And in case you really want to think outside the box, the suggestions of other recipes in the book to pair with each dish give you new ways to look at what to serve together. The international inspirations result in unique takes on common dishes, e.g., the Spicy Miso Guacamole (p.22) pairs the lightest, least salty version of Asian miso with lime-and-sriracha spiced avocado of warm climes. And here's a unique combo – julienned raw zucchini with prunes, dressed in a soy-ginger-sriracha dressing (p.8). The recipe for Ginger Lobster Salad (p.86) is really simple but intriguing with a very light dressing that also includes ginger, soy and sriracha along with rice vinegar. Like so many in this book, it looks deliciously appealing in the photo.
While soups and some other items can be frozen, many of these recipes are best served very fresh. Yet most of the ingredients here are portioned to serve 8. If you are a single or a couple. those extra 4 to 6 servings of every recipe might very well go to waste, so be aware you may have to calculate and then cut the ingredients in half or thirds in order to eat the dish fresh. As in all good cookbooks for diabetics, every recipe gives diabetic exchanges and choices and full nutrition data.
Fifty internationally inspired recipes with professional close-up photographs of items clearly styled by a food artist. It's a beautiful thing. Proceeds from sales of the book support the American Diabetes Association. In paperback ~$11 on Amazon.