Did you know rye whiskey is the classic American distilled spirit? Starting in 1750, rye whiskey was for many years the main spirit for American imbibers. In 1810 Pennsyvania alone shipped 6.5 million gallons of rye to Kentucky's 2.2 million gallons of bourbon. But soon after that, bourbon ascended to the pinnacle and rye descended to the bottom in popularity. Back then, according to this source, it gradually became what street drunks bought and consumed in paper bags. More cool pictures on their Cali Distillery Instagram page.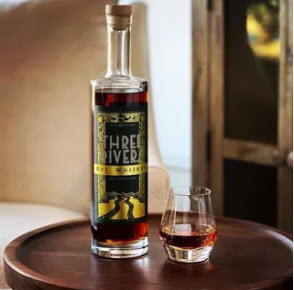 Now, rye has risen again to its former levels of glory in the craft distilling revolution going on in the U.S. these days.
And Cali Distillery owners, experts at crafting many different spirits, have seen the future of whiskey and believe that rye is right up there near the top. Cali has developed a small stable of whiskey offerings, and Three Rivers Rye is the latest, meant as a tribute to the honored distilling process of this classic spirit.
Drink it straight (see next paragraph), or use this spirit to build a properly spicy Manhattan or a traditional Sazerac. Rye is a critical component in those and other mixed drinks, and Three Rivers Rye is definitely up to the challenge. Gives a richness and depth to these traditional go-to cocktails.
Best to drink savor Three Rivers slowly. Start with it neat for a few sips. Then add a single cube and let it begin to mellow the flavors together. Once that's melted, enjoy again, or add another cube and continue sipping. Think about the history of the drink – and read all about it on Cali's website – as you relax into the experience.
Cali Distillery's Cask-Strength Riptide Rye is a powerful version of rye that's great for true rye lovers. Just for fun, plan an evening with friends and try all of their whiskey expressions.