You've heard of Chicago beef sandwiches. You've heard about the Philly cheese steak. Now prepare yourself for the sandwich that combines the best of both and takes it all to a new level. It's called The Broken Brisket Dip sandwich (more on this below), and the only place you can find it is at the Broken Barrel Bar, 2548 N. Southport. It's just one of the resident chef's innovative ideas for bringing good old every day bar food to new heights – and making gluten-free and vegetarian souls smile.
The Broken Barrel Bar is a brand new Lincoln Park spot that promises to become a favorite destination for those who love to eat, drink and watch sports. Owner Luke Johnson of Wine Not Hospitality said making people feel comfortable is what it's all about. From the extra-large, well-padded U-shaped booths inside, to the stepped natural-wood booths and stadium seating in the outdoor space, the arrangements are perfect for big parties, yet relaxed for smaller groups and couples. Another thing Luke does to enhance the bar's spacious yet cozy ambiance is partner with local artists to create whimsical wall art. The whole restaurant/bar is ideal for large groups – family, friends, or work pals – to hang out together. Game day, let's-get-crazy day, or just relaxing time, you and your whole gang will feel welcome.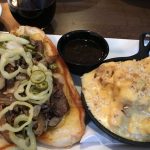 Broken Barrel Chef Bryant Anderson is all about presenting his unique take on smoked meats and pickled accompaniments that lift the barbecue bar a notch beyond the ordinary. That Broken Brisket Dip sandwich is stuffed to overflowing with perfectly tender chunks of pot roasted beef (not paper-thin slices) studded with tiny pepper slices in the house-made giardiniera and sitting atop of a generous layer of cheese melted onto both sides of a good-sized hunk of Italian-style bread. All of that is bathed lightly in the chef's smoked meat juices and served with a side dish of same for dipping. And, oh, you're going to wanna dip. I mean, I seldom eat beef – and almost never Chicago's Italian style beef because that razor-thin-sliced meat's too dry for my taste once it's reheated in the sauce – and yet I nearly finished this big sandwich. And I made sure I took home the small chunk I had left, too. It was delicious even straight out of the refrigerator the next day.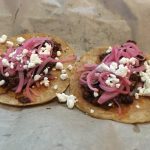 Another standout sandwich is the Guajillo Lamb taco – guajillo-pepper-marinated hickory-smoked lamb shoulder chunks, served in warm corn tortillas and topped with house-made, sweetly pickled red onions and dollops of super creamy, just-sharp-enough goat cheese. Again, though I'm neither a lamb nor a taco aficionado, this sandwich was mouth-wateringly good. I'm kind of embarrassed to admit I ate this whole thing, too.
Some of the sides are right up there, as well. The crinkle-cut sweet potato fries ($4) actually taste like and have the mouth-feel of real sweet potatoes; my companion could not stop eating them. The medium thin regular French fries ($5) are nicely browned and not greasy – and I AM a French fry aficionado. Chef says since Lincoln Park has a high percentage of vegetarians, they've chosen to honor that eating style by offering dishes like the Nachos, interlaced with roasted brussels sprout leaves, pickled onions, pickled radishes – all house-made – plus jalapeños and a jalapeño cheddar sauce on top of the sprinkled cheese. We had asked for the sauce on the side, but the dish would have come together better with it on top – and with even more of it, 'cuz it was good!
Then there's a selection of wings – gluten-free, by the way, because they are fried crispy but not breaded – that come with your choice of dry rub or several unique BBQ sauces: Buffalo, Garlic Buffalo, Honey Habanero, Chili Maple, Sticky Curry, Hell Raiser Hot, or their biggest prize winner, Bourbon BBQ. Try these with a side of Mac & Cheese with smoked cheddar and two toppings ($15), Fried Plantains, a Cheesy Cauliflower Gratin ($6 – could have used a bit more cheese intensity), or a side of nicely roasted Brussels Sprouts ($6).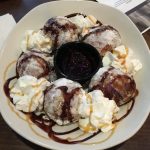 The mini donut dessert was exceptional. Freshly made, hot-out-of-the-fryer donut puffs, placed in a pretty circle around a dish and interspersed with puffs of whipped cream, all drizzled with chocolate sauce and served with a dish of house-made triple berry sauce in the middle. Big enough for two and irresistible – even if you've already chowed down on your main dishes.
The wine list is a truly carefully curated selection that includes a couple of whites, a single Cabernet, a single Tempranillo, Malbec and so on. These are obviously well chosen to appeal to a range of discerning palates, and the ones we tasted were more than satisfactory. Wine glass prices range from $9 up. Well chosen, delicious wines. And for beer lovers of tappers, tall boys and bottles, you've got choices. And of course, there is a full bar and a nice selection of custom cocktails.
I suspect that if I lived in walking distance, this place would become a regular haunt. It's so friendly and cozy, even with the dozens of TV screens that will keep you company even if you're alone. And which, by the way the night we were there, we noticed they kept turned down until the Chicago Cubs (next year!) game came on. Go here and get your game on. Drink and eat. A nice example of the best in Food and Drink in Chicago.
P.S. They start serving weekend brunch on Saturday November 3! Check these options out:
SMOKED LAMB BENEDICT. Fresh baked biscuits, slow-smoked lamb shoulder, creamy hollandaise sauce, two over easy eggs, maple-sriracha drizzle & micro cilantro $14. OMG, that lamb from the tacos is FABulous.
HANGOVER BREAKFAST SANDWICH. Hickory brisket, fried egg, Merkts cheddar, arugula, chipotle mayo, crispy onions, toasted pretzel bun, choice of side $13. Oh, my. It's lunchtime as I write and I think I need one of these right now.
CROISSANT FRENCH TOAST. Orange-buttermilk batter, homemade triple berry sauce, fresh croissant, whipped cream $12. Dessert for breakfast!!!
And what's brunch without the booze?! Broken Barrel Bar will be pouring their house-blended BLOODY MARY, served with Hank's Vodka and chef-pickled vegetables $9. Or try "WE'LL TAKE A BOTTLE"  – a bottle of bubbles with fresh orange juice $30.