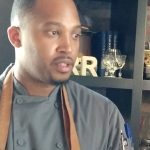 Surprised and delighted to learn that River Roast, 315 N. LaSalle St., offers cooking classes. Well, more like cooking demos because you get to watch rather than participate. Besides the beautiful and eclectic decorations in the space, the great view of the river and the delicious foods you get to eat, one of the most positive things about these sessions is the fact that you get to ask River Roast Executive Chef Cedric Harden any cooking question you want (preferably related to the dish he's preparing right in front of you – when you sit at the bar, which we highly recommend), and he gives you the straight dope  from his extensive professional experience.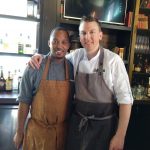 Attending a recent class felt like the most fun you can have in downtown Chicago on a regular Saturday afternoon. That day Chef Eric Lees, Chef de Cuisine at Spiaggia, a sister restaurant in the Levy Group of fine establishments, was on hand to assist. He and Chef Cedric put on a truly down-to-earth demonstration of what it's like to invent and to execute an original dish.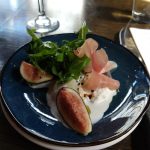 It was pure pleasure watching the construction of the spring greens salad at this Cooking with Spring Ingredients session. Oh, and before the first course, the chef surprised us with an appetizer that wasn't on the menu – a lovely concoction of salumi slices, wedges of fresh fig, and fresh arugula nestled atop a creamy puddle of locally made burrata. Delicious. Back to the spring salad. Have you heard of using shaved raw asparagus along with steamed asparagus tips together in a salad? It's a cool idea that works very well, especially when dressed with a lovely handmade Green Goddess dressing. The freshness of all the flavors and the whole combination made all the students' tongues happy. And that was just a single one of the many interesting ideas and tricks the chef gave his guests. He shared his knowledge generously, from talking about where to learn knife skills to explaining why and how to salt the water for pasta (you'll be shocked to hear what he suggests!).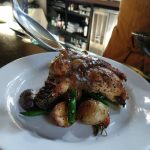 Included in the price (~$65) you'll be served a number of small cocktails/wines throughout the class. Just enough to give a pleasant buzz on a sunny Saturday afternoon. But it'll undoubtedly work just as well on a cloudy one.
The winter series of cooking demos is finished now, and we are eagerly awaiting word on the new series. This is one of the most delightful ways to spend a Saturday afternoon that we can imagine. A bit of spirits, a lot of delicious food, and a generous helping of professional knowledge – a win-win in anybody's book. Have already told friends about how much fun this was, and we can't wait to get the new schedule.