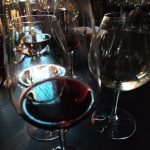 Some wineries bring their wines to market via huge gatherings of trade and media reps, complete with educational seminars, panel presentations, slide shows, and so on. With luxury producers like Chateau Montelena, it's more usual to showcase their wares by serving them in the conditions for which they're designed – small groups that encourage conversation and allow the wines to reveal their true beauty over a shared meal of delicious food.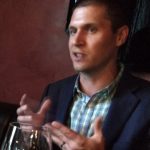 That's the approach Matt Crafton, chief winemaker at Chateau Montelena in Napa Valley, takes when he brings a curated selection of his wines to a city. He works with local executive chefs to pair their creations and his with a deft and definitive touch. In Chicago recently, he worked with chefs at Maple & Ash, 8 W. Maple, to construct a menu ideally suited to the wines – perfect pairings for the luxury whites and reds he brought to represent the best of the Chateau's small-production vineyard.
Crafton, who says he enjoys having his 7-, 5- and 1-year-old kids follow him around the vineyard, often checks his smartphone, even when he's out of town, to see how the vines are faring. The winery has sensors all over the vineyard that constantly send stats about water levels to his phone. Those numbers tell him when the vines are being stressed – even before the leaves begin to show physical signs such as curling or turning – so that he can order countermeasures if needed.
Over a meal of meticulously paired and perfectly prepared dishes created by the chefs at avec Restaurant, 615 W. Randolph, Crafton generously shared a few of his thoughts and insights about wine in general and Chateau Montelena in particular.
Special points of his wine wisdom:
Be on the watch. The Bordeaux wine region in France has recently been spraying its vines with copper sulfate in order to control a mildew infestation. This is not good for the soil long term – and thus for the wines.
Food for thought: Seven percent of the entire human population is left-handed. In the wine making business, the share is forty percent.
Labeling a wine – or anything – "organic" is nearly meaningless in our current state of affairs. There are simply too few controls. Sustainable growing is, instead, the ideal for which we all should be striving.
Wine is a delicate custom expression of each terroir – and naturally varies according to the year's weather and soil conditions. If you're looking for the same experience every year in your beverage, drink beer.
When you want to age a wine, you'll get a better result with 1.5-liter bottles than the usual 750 ml size. Why? Because with the same cork, you get twice the volume, which slows down the process.
Using an aerator is good, but it cannot remotely compare to actually aging a wine. Oak and grape skins contribute tannins. Cement and clay hold oxygen while keeping the fruit fresh. Aerators just add ambient air.
American oak is looser-grained and can contribute flavors like coconut, dill and vanilla. French oak is more subtle. Spanish wines, for example, use a lot of American oak and tend to have a vanilla aroma.
If you the big Italian red wines like Barolo but find yourself not enjoying somewhat lesser Italian reds, it may be you are not consuming them along with food – the experience for which they are specifically made.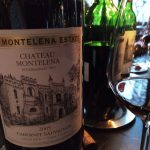 Special points about Chateau Montelena:
Chateau Montelena was one of the California wineries that came crashing onto the world stage with the famous "Judgment of Paris" back in the 70s when Napa Valley wines, red and white, received top honors over France's finest – as decided by French judges doing blind tastings.
Chateau Montelena sets aside 5 to 10% of every vintage of Chardonnay and Cabernet each year and cellars it so that customers who cannot or choose not to age a bottle on their own will be able five years hence to purchase one that shows off how well that vintage has aged in the bottle.
Their Napa Valley Cabernet Sauvignon (SRP ~$65), typically blended with Merlot or sometimes Cabernet Franc – is made to be approachable when young.
Their Chateau Montelena Estate Cabernet (SRP ~$175) is never blended with Merlot – because they don't grow those grapes on the estate –  but sometimes with Petit Verdot. This gem takes time to reach its peak and will open up much more after a longer time in the bottle.
The estate consists of 100 acres behind the Chateau and is partly situated on two mountain ranges that each contribute a different kind of soil – one of volcanic ash and the other mineral-rich from having been under the sea.
Crafton said he likes to bring Chateau Montelena to others around the country in order to demonstrate what their values are. "We take our wines very seriously," Crafton said. "But we try not to take ourselves too seriously. After all, it [making wine] is about making people happy."
Some of the luxury wines he brought to Chicago included:
2011 Chardonnay

2005 Estate Cabernet Sauvignon
Happily, when you're looking for that special wine you want to save for the future or that special wine you want to drink to celebrate a momentous or even just a festive occasion, you can frequently find Chateau Montelena wines at Binny's, Mariano's, and many small wine shops and restaurants in and around Chicago.