If you know Trader Todd's, 3216 N. Sheffield, you may think of it mainly as a karaoke joint with tiki-bar-style drinks and atmosphere. But guess what? They are now doing brunch, and their Executive Chef Mark Hill really knows how to put food on the plate, with here and there his own unique touch to dishes you thought you knew.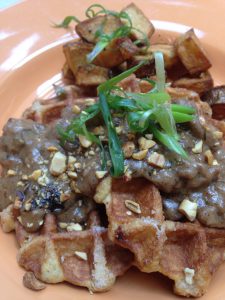 For example, ever ordered fried chicken and waffles? It's always seemed like a stretch to understand what makes the two go together. But Chef Hill has changed that up for many Trader Todd brunch customers. The way he combines these two is totally unique – kind of like eating your main course and your dessert at the same time. The waffle has a sweet crunch, and the chicken comes in chunks bathed in a rich, brown, slightly sweet-spicy jerk sauce sparked with Chef's own mixture of allspice and peppers and maybe some or all of these: cloves, cinnamon, scallions, nutmeg, thyme, garlic, brown sugar, ginger, and salt. It's his secret – and it's a good one.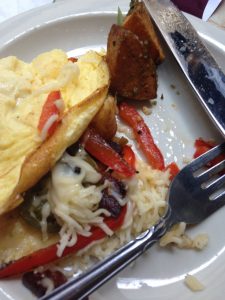 And lest you wonder about the kitchen's ability to do standard brunch items up right, check out the lovely omelette, cooked so that the eggs come out tender and moist rather than dry and tough. Get your choice of cheeses and fillings and eat 'em with the kitchen's house-made fried potato chunks – tender inside and just enough crust on the outside. Delicious.
Or if you're in the mood for a burger, Trader Todd's does 'em good. Nice helping of ground beef, grilled and served with whatever toppings your heart desires. And some more of those good fried potato chunks.  But don't stop there. They've got Benedicts and sliders and conch cakes, Jerk Chicken and Jerk Pork sandwiches and more. It's pan-tropical food and drink to make you feel like you're in the islands. Lots of open-air space, and there's even a boat you can sit in in the back bar. It's a faux-island paradise for brunchers to start off a Saturday or Sunday of relaxation.