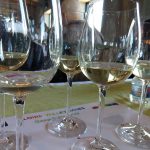 Want a wine that evokes gloriously fresh surroundings? The wines of the Loire Valley bring to mind a range of pleasant springs and mountain streams as well as gentle sun, lazy breezes and relaxed days. They come in a myriad styles – from dry to sweet and everything in between – and in all price ranges.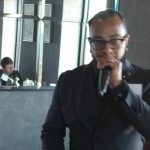 Recently, Jamel A. Freeman, wine director at the Bellemore Chicago, presented seminars at Spring to Loire 2019 in Chicago – facts, figures and stories about these lovely wines. He explained that Loire Valley wines are best known for crisp, dry, white wines, notably Sauvignon Blanc and aromatic Chenin Blancs. yet they also produce fruity red wines from Pinot Noir and Gamay grapes as well as earthy red wines from Cabernet Franc and Malbec. Not to mention their selection of dry and off-dry rosé, elegant sparklings and luscious sweet wines. All are known to be:
Moderate alcohol, refreshing acidity and minerality that make them ideal for pairing with foods.

Pure expressions of varietal and terroir unmasked by oak.

Excellent value.
Jamel presented three separate seminars. One on the Diversity of LV wines. A second on the Sauvignons of LV. And a third on LV sparklings. He also shared additional interesting facts and figures about Loire Valley and about wines in general. Herewith a few tidbits:
The balance of acid and fruit is a good indicator of how well a wine will continue to develop in the bottle – like a fruit ripening, a wine may be high in acid to begin with and then become  mellower and sweeter as it ages.

Loire Valley:

Is France's #1 producer of white wines, and the #2 producer of rosés.

Is the #1 region for the number of AOC sparkling wines

Is the 3rd largest vineyard in France.

Has 51 appellations and denominations

Produces 320 million bottles per year.

Ever notice how Prosecco seems to go flat quickly? That's because it's produced by the bulk method. Loire Valley and other sparklings produced by methode traditionale are fermented a second time in the bottle – which results in longer-lasting bubbles.

Stress to vines develops complexity. Higher elevation means more acidity and more minerality.

Vouvray – which has become almost a generic name for sparklings from Loire Valley – is half as bubbly as champagne, but creamier than

Cremant.

Chenin Blanc grapes are more aromatic than Charadonnay, but Chardonnay can be more easily manipulated because of its less powerful aromas.
Most of the wines Jamel presented are available at Binny's. A few of the excellent wines showcased at the program are listed below. For more information about Loire Valley wines visit
www.loirevalleywine.com/
.
Vouvray NV, Domaine VIgneau-Chevreau. A sparkling with lots of flint, minerality. 100% Chenin Blanc from 25 year old grapes. Just delicious! SRP ~$23-26.
Jean-Francois Merieau Vouvray 2012. 80% Chenin Blanc, 20% Sauvignon Blanc. Seashell minerality and a nose of floral notes and white peaches. SRP ~$19.
Vincent Grall Sancerre 2017. This wine is the benchmark for Sauvignon Blanc in Loire Valley. Aged in oak or acadia wood. SRP ~$26.
Domaine Paul Buisse Touraine 2017. 100% Sauvignon Blanc. A lovely value-priced white with seashell minerality on the palate; sage, bell pepper and crushed chalk aromas SRP ~$13.
Vignobles Gibault Touraine-Chenonceaux 2017. 100% Sauvgnon Blanc. Long, slow fermentation pulls out the aromatics, and this wine features rich notes of pears. ~$21
Henry Pelle Menetou-Salon 2017. 100% Sauvignon Blanc. A nose of organic white peach blossoms, yellow apple flesh. Rich tasting white. SRP ~$23.
Sancerre 2016 Joseph Mellot. 100% Pinot Noir. Complex with a long finish. Similar in characteristics to Northern side of Burgundy.
Be sure to look for our next post on pairing Loire Valley wines with flowers!!
Any way you look at it, you're almost guaranteed to have an enjoyable wine when you choose from the broad selection of Loire Valley Wines.