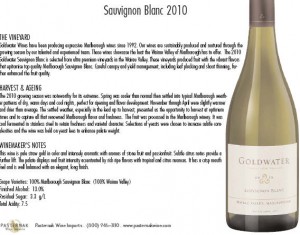 I'm a fair weather fan. I'm not proud, but that's how it is. For example, for many decades my last memory of getting excited about baseball was when the Chicago White Sox won the pennant in 1959 (okay, I'm old).
However, I am open-minded. Like a few years later, ahem, in 1995 I was taken to my first baseball game in forever at the then-brand-new stadium of the Cleveland Indians. Within 4 plays-including a super-powered at-bat and an incredible spinning, on-the-fly catch-and-fire to first base – I was on my feet yelling to my companion: "Oh, my God, this isn't how they played baseball last time I watched!"
Along those lines, I used to think I didn't much like white wines. The words "sauvignon blanc" pretty much made my mind go blank. I spent many years in comfortable ignorance. But it's been a long time since I tested white wines, and things seem to have gotten a lot more sophisticated since I last paid attention.
Below are my comments on a few Pasternak Wine Importers selections I tried recently (the notes denote "how much this wine makes my mouth sing!") and one of Lot18's sauvignon blancs:
My verdict: Sensuous and sexy ♪ ♪ ♪
My verdict: Makes me feel rich ♪ ♪ ♪
My verdict: Dangerously drinkable ♪ ♪ ♪ ♪
My verdict: Very nice edition of SB ♪ ♪ ♪
My verdict: Luscious, companionable, easy to drink. ♪ ♪ ♪ ♪
My verdict: Gentle and drinkable. A nice introduction to sauvignon blanc for newbies. ♪ ♪ ♪
My verdict: Crisp and delicious alone or with foods. ♪ ♪ ♪