Armand de Brignac
occupies a premier position among the many prestigious makers of French champagne. Owner Shawn Carter and Winemakers Alex and Jean-Jacques
Cattier
, freely admit their goal is simply to make the finest champagnes in the world, designed specifically with the luxury wine collector/investor in mind.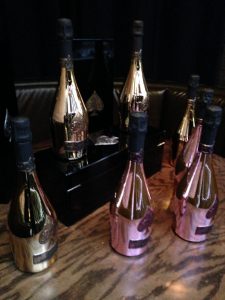 Winemaker Emilien Boutillat came to Chicago recently to introduce Armand de Brignac's newest product, Blanc de Noirs Assemblage Two, made exclusively with Pinot Noir grapes. They also asked Chef Lee Wolen at Boka to create pairings for the new blend and several other offerings with a view to educating members of the trade and press about their line of fine champagnes.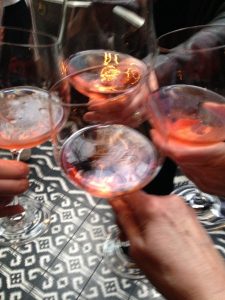 All of Armand de Brignac's offerings are non-vintage, said Boutillat, but rather are created as blends, often from three different vintage years. For the rosé champagne, they actually use a blend of white and red wines that yields an orangey-rose color with a very fine bubble that makes a delightful aperitif.
The blanc de blancs stood out strong and smooth and full of character, which may be why the first course paired it with an unusual fish called
Striped Jack – also known as
Shima Aji, categorized in the Jackfish family
. Served with a bit of seaweed and potato and flavored with lime, this dish was the least favorite dish I've ever had at Boka. The champagne, nevertheless, was delicious and stood up well to the somewhat strong taste and very firm texture of the fish.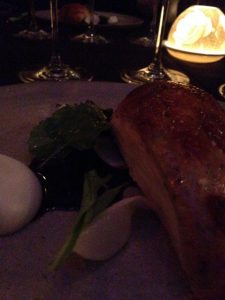 The next champagne, Armand de Brignac's Champagne Gold Brut – its flagship wine – was extraordinarily delicate and so beautifully blended that it felt almost ethereal on the nose and palate and in the mouth. It made a perfect accompaniment to the Chef's incredibly moist-fleshed chicken breast,  stuffed under the crispy skin with house-made chicken-leg-meat sausage. Served with a small pouf of super-fine puree of parsnips, the serving was generous, the dish attractive and satisfying, and the wine a lovely accompaniment.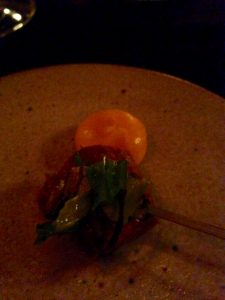 The next wine, of which Armand de Brignac has only made 2333 bottles, was a truly unique taste in champagne. If felt a bit strange at first on the palate, until I tasted it with the imaginative creation of a tiny piece of lamb tenderloin beside a dollop of creamy, thick apricot sauce. The combination was directly on the money. In fact, I've never experienced such a strong feeling of "Oh, yeah, these work perfectly together!" as I did with this pairing. This particular wine, said Boutillat, is made with a blend from harvests of 2008, 2009 and 2010.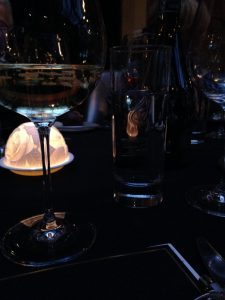 Dessert, an extraordinarily light combination of coconut and citrus and exotic tropical passionfruit with tapioca and elderflower, was perfectly paired with the world's only semi-sweet champagne – Armand de Brignac took the plunge some years ago to create its own demi sec champagne, a task no other luxury champagne company has ever undertaken. By all accounts, and by the taste that so complemented this dessert, they are succeeding admirably.
Boutillat, the 30-year-old winemaker who has been with Armand de Brignac for four years, came around to answer questions about the various wines and tell stories about his experiences around the world before settling down with this high-profile family-owned and -operated winery. His experience is multinational and his passion quite obvious. When asked about his comparative youth, Boutillat explained that senior owner Jean-Jacques Cattier likes to hire young people for the energy and the imagination they bring to further inspire the making of their great champagnes. Judging by the lovely champagnes at this event, luxury collectors everywhere can rejoice.