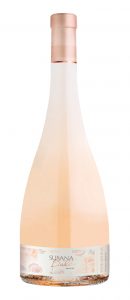 Susana Balbo turns the rich terroirs of Mendoza, Argentina, into her personal palate for creating fine wines of all varieties. From whites and rosés to reds, these wines are made with deft yet powerful touches that make them standout choices for entertaining, gifting or simply enjoying at home. Try some of these for your next party – wherever it might take place.
Susana Balbo Signature Rosé 2018. 60% Malbec and 40% Pinot Noir. Almost impossibly luscious. Hard to believe it's a rose – but then roses have become all the rage these days. And this one is right up there with the nicest. Elegant salmon color with a delicate nose of floral with aromas of strawberry and cherry. Fresh, juicy acidity pairs with strawberry and red currant flavors.Nicely balanced and well structured. Great by itself or paired with smoked salmon, Asian food, grilled white meats and hard cheeses.
Susana Balbo Signature Brioso White Blend 2017. 45% Semillon, 30% Torrontes, 25% Sauvignon Blanc.Aged 4 months in first-use French oak barrels and 40% second-use. Floral and citrus aromas with hints of resh grass, white fruits and orange. Tastes of flowers, fresh and fruity, combine beautifully with the smooth oak ageing. Persistent finish with nice minerality. Great potential for aging. Pair with fish, rabbit, Asian food and hot sauces. Very nice.
Susana Balbo Signature Brioso 2016. 53% Cabernet Sauvignon, 24% Cabernet Franc, 16% Malbec, 7% Petit Verdot. Deep, bright ruby red in color, this wine has strong tannins with its sweet red and black fruit and subtle oak flavors. Aged 15 months in 100% new French oak barrels. The elegant florality of Cabernet gets additional flavor and complexity from the other grapes. Fine and fresh finish with excellent ageing potential. Serve with beef, pork, lamb, squab, quail and duck. Highly enjoyable.
Under Susana Balbo's sister (brother?) label, BenMarco, come these delicious options:
BenMarco Cabernet Sauvignon 2016. 100% Cabernet Sauvignon, aged 11 months in 100% second-use French oak. Grown in the rich, alluvial soils in Los Arboles, Uco Valley. the grapes gives this wine a rich concentration along with its floral notes. On the palate, black fruits, black pepper and cassis balance with fine-grained tannins. Serve with beef, sausages, veal, rabbit, medium-strong cheeses and meat pasta sauces. Utterly delicious!
BenMarco Expresivo 2016. 75% Malbec, 25% Cabernet Franc. Aged 14 months in 100% new French oak barrels. Chalky alluvial soils in Gualtailary, Uco Valley, where BenMarco grows these grapes, yield a wine with deep, bright ruby color and notes of chalk, earth, floral, peppercorn and tree fruits. Ultrfine tannins and great ageability. Enjoy with grilled meat, veal, medium-strong cheese and spicy sauces. Wonderful wine.
BenMarco Malbec 2016. 100% Malbec. 11 months in second-use French oak. Grown in sandy loam and rocky soils, the grapes must struggle and thus assure the complexity of this wine with aromas of fresh black fruits and hints of violets. Great balance with fine tannins and just enough acidity to lift the wine and add to the length of the finish. Complements beef, sausages, spiced or grilled pork, medium-strong cheese and meat-based pasta sauces. Excellent!