It's always a joy to have the winemakers of France come to Chicago, and particularly delightful to taste the wines of Bordeaux in our fair city.
Vins de Bordeaux
 held a tasting at
Virtue Restaurant
in Hyde Park that proved especially enlightening and enjoyable. As with many grape-growing lands that depend on rivers, two of them – River Garonne and the Dordogne – flow through Bordeaux. One way to categorize their red wines is to note that those from the Left Bank tend to blend more with Merlot, while wines from the Right Bank tend to blend more with Cabernet Sauvignon.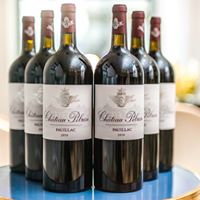 Bordeaux wines come from 65 different appellations, many of  which you'll recognize: Cotes de Bordeaux ("cotes" denotes hillsides that overlook the right banks of the Garonne and the Dordogne Rivers), Saint-Emilion, Pomerol & Fronsac, Medoc and Graves. The region produces dry whites (11% of their production) that are fresh and vibrant with good natural acidity. Bordeaux sweet whites are made from grapes affected by botrytis. They're medium- to full-bodied and are produced mainly in Sauternes and Barsac in the southern part of Bordeaux. 
WHITES
REDS
Domaines Baron de Rothschild (Lafite), Legende 2012. Beautiful blend of 70% Cabernet Sauvignon and the rest Merlot. Imported by Esprit du Vin. SRP $49.99
Chateau Lafitte Laujac 2011
. Made from grapes grown in very well drained soils in the Medoc region, this one spent a full year in barrels. 60% Cabernet, 35% Merlot, 5% Petit Verdot. Lovely.
ROSÉS
Chateau Maurac 2012
. Blended from Cabernet and Merlot from the Haut-Medoc area and imported by Michael Corso Selections. SRP $29.99.