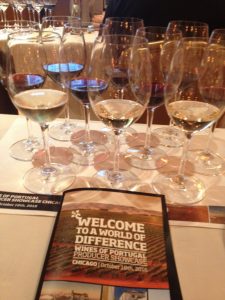 The Wines of Portugal group visited Chicago this year, inviting industry pros and media to a blind tasting held at the Intercontinental Hotel and led by Evan Goldstein, sommelier and wine educator par excellence.
A few notable selections (sorted by price, high to low) from the 2016 event include:
Cortes de Cima Tinto 2012
. Garnet with red highlights, this wine has spicy, savory aromas with vanilla notes. Sweet, savory fruit flavors with an elegant palate. Complex taste with long finish. SRP
~$23
Barao de Vilar Feuerheerds 2013
. This lightly sweet dessert wine is a rich raisin color with upfront floral aromas and then notes of prune, vanilla, and milk chocolate.  Delicious and well, well worth the price at SRP
~$14.
Follies by Aveleda 2013
– Blend is a combination of native Touriga Nacional and Cabernet Sauvignon grapes. Winemaker notes: Deep ruby color with intense aromas of berry, oak and vanilla. A well-balanced body with supple tannins resulting in an elegant whole. Ideal with spicy meat dishes, wild mushroom risotto, or serve as an aperitif with cheeses and nuts. Lovely for any price, but
a true value wine at 
SRP
~$8.