Category Archives: Bordeaux
It's always a joy to have the winemakers of France come to Chicago, and particularly delightful to taste the wines of Bordeaux in our fair city.
Vins de Bordeaux
 held a tasting at
Virtue Restaurant
in Hyde Park that proved especially enlightening and enjoyable. As with many grape-growing lands that depend on rivers, two of them – River Garonne and the Dordogne – flow through Bordeaux. One way to categorize their red wines is to note that those from the Left Bank tend to blend more with Merlot, while wines from the Right Bank tend to blend more with Cabernet Sauvignon.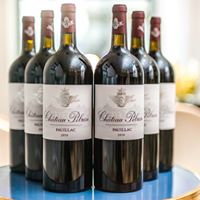 Bordeaux wines come from 65 different appellations, many of  which you'll recognize: Cotes de Bordeaux ("cotes" denotes hillsides that overlook the right banks of the Garonne and the Dordogne Rivers), Saint-Emilion, Pomerol & Fronsac, Medoc and Graves. The region produces dry whites (11% of their production) that are fresh and vibrant with good natural acidity. Bordeaux sweet whites are made from grapes affected by botrytis. They're medium- to full-bodied and are produced mainly in Sauternes and Barsac in the southern part of Bordeaux. 
WHITES
REDS
Domaines Baron de Rothschild (Lafite), Legende 2012. Beautiful blend of 70% Cabernet Sauvignon and the rest Merlot. Imported by Esprit du Vin. SRP $49.99
Chateau Lafitte Laujac 2011
. Made from grapes grown in very well drained soils in the Medoc region, this one spent a full year in barrels. 60% Cabernet, 35% Merlot, 5% Petit Verdot. Lovely.
ROSÉS
Chateau Maurac 2012
. Blended from Cabernet and Merlot from the Haut-Medoc area and imported by Michael Corso Selections. SRP $29.99.
Quite wonderful, the variety of burgundies and Beaujolais wines produced from grapes that grow in very similar terroirs – found both along the left and right banks of the river valley, and up and down the length of Burgundy – as well as those grown in similar climate and soil conditions in parts of California. Similar terroirs, yet producing wines with remarkably distinct qualities that are easily identified by sommeliers – and clear enough to the rest of us when pointed out.
Recently Heritage Wine Cellars brought Chicagoans a "Tour de Terroir" that showcased these distinct qualities. The tour showcased selections of wines from the Boisset Collection at a lovely private event space at Sunda, where attendees enjoyed excellent finger fare to accompany the wines.
Boisset is a family-owned collection of historic and unique wineries bound together by a common cause: authentic, terroir-driven wines that are in harmony with their history, their future and the land and people essential to their existence. Their family includes wineries in some of the world's preeminent terroir such as Cote d'Or, Beaujolais, Rhone Valley, California's Russian River Valley and Napa Valley. And each house retains its unique history, identity and style, while still distinctively expressing their unique terroir.
Boisset was founded in 1961 by Jean-Claude and Claudine Boisset, then a young couple living in the heart of Burgundy. They gradually acquired vineyards and wineries on two continents and forged an identity as the leading wine producer in Burgundy. Now under the leadership of their son, Jean-Charles, Boisset welcomes and fosters the collaboration of France and America in a profound belief that sharing our knowledge and wisdom will deepen and enrich the world of wine and also increase appreciation and provide even more exposure for each region's diversity and uniqueness.
You will know you are drinking a wine from the luxury Boisset collection when you choose from one of the following names: Pierreux, Momessin, J. Moreau & Fils, Bouchard Aine & Fils, Jean-Claude Boisset, Domaine de la Vougeraie and Domaine Henri Maire, and look for even more wineries on the Boisset website. Below are a few of the many wines that were remarkable in the recent Chicago  tasting, including two value-priced whites (a sparkling and a still – the last two in the listings).
REDS
Domaine de la Vougeraie
Nuits-St-Georges 1er Cru "Les Corvees Pagets" 2014 – SRP $108
Nuits-St-Georges "Clos de Thorey" Monopole 1er Cru 2015 – SRP $121
Vougeot "Clos du Prieure" Monopole 2015 – SRP $112
Mommessin
Moulin-a-Vent 2016 – SRP $23
WHITES
Bouchard Aine & Fils
Chassagne-Montrachet 1er cru 2017 – SRP $111
J. Moreau & Fils
Chablis "Valmur" Grand Cru 2017 – SRP $99
Chablis "Les Close" Grand Cru 2017 – SRP $99
Jean-Claude Boisset
Saint-Aubin "Sur Gamay" 1er Cru 2017 – SRP $66
Domaines Maire & Fils, Jura
Cotes e Jura Heritage Tradition 2018 – SRP $15
Sparkling: Cremant de Jura Brut Jurassique N/V – SRP $16.25