Every change of season is a good excuse to broaden your repertoire of wines and spirits. And, hey, it's finally fall in Chicago (well, except for those 72-degree days). To warm yourself in cooler temps, consider these unique beverages to help you enjoy the glorious November weather: a fabulous red wine born of a partnersip, a cognac finished in bourbon casks, a plummy gin, a light prosecco (with punch recipe), and a 'fiery' red wine finished in whiskey barrels.
_____________________________
"Collaboration" ***** is an absolutely stunning red wine that we would happily drink with anything – from rich cheeses and hearty stews and roasts, to pork, sturdy fish like salmon and, well, just about anything. For serious red-wine lovers, it might even work as an aperitif with appetizers just because it's so complex and rich and delicious. This wine is the remarkable result of a cooperative effort (thus, the name "Collaboration")  between Cooper's Hawk Winery & Restaurants and Buena Vista Winery. And the catch is, you can't buy it in stores, and you can only buy it online if you are a member of the Cooper's Hawk wine club.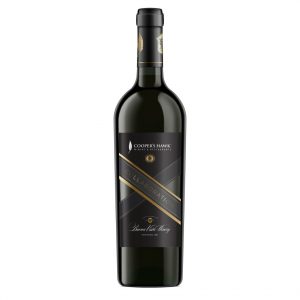 Here's what the winemakers have to say about it: "A rich, deep wine loaded with aromas of blackberry, blueberry, cherry, plum and baking spices, it has firm and well-rounded tannins and an exceptionally long finish that can stand up to any beef dish. Beautiful to drink now, it's expected to age well for another four to six years."
Jean-Charles Boisset, who added Buena Vista to the Boisset Collection in 2011, says Collaboration "makes the wine world vibrate and brings a transcendental vision to people's emotional style, taste, and senses… This wine is about power and a vortex of energy that has never been felt before." We actually don't think that's too strong a statement. Visit www.buenavistawinery.com.
Cooper's Hawk is a unique combination of restaurant, winery, Napa-style tasting room, and artisanal retail market with 24 locations throughout Illinois, Florida, Indiana, Missouri, Ohio, Maryland, Virginia, and Wisconsin more on the way next year. They partner with some of the best grape growers in the world to craft the highly praised Cooper's Hawk wine collection. And they have a wine club that offers exclusive wines, events, and privileges. CEO/Founder Tim McEnery first opened the company in Orland Park, Illinois in 2005. Visit www.chwinery.com. Must be a wine club member to purchase Collaboration.
__________________________________
Martell Cognac, the oldest of the great cognac houses, recently announced the launch of Martell Blue Swift, the first-ever Martell VSOP finished in Kentucky Bourbon casks and packaged in a beautiful bottle. Engraved on the bottle, Martell's iconic swift emblem represents the legend behind the brand. This bird is famous for flying exceptionally long distances, crossing the Atlantic Ocean twice a year, and the story goes that Jean Martell was guided by the flight of a swift on his original journey from the island of Jersey to Charente. Martell was the first to ship its cognac barrels from France to the United States and now, more than 230 years later, they're still doing it. This new and unique Eau de Vie de Vin is a product that is born "When Cognac meets Bourbon." SRP ~$50.
__________________________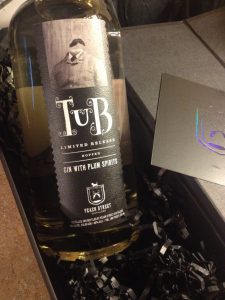 TuB Gin's Hoppy Plum gin. This unique hoppy, fruity gin with plum spirits came out on November 1 as a limited 4-month release from Peach Street Distillers, the folks known for using crisp, local ingredients in their spirits. And this one is a really special spirit that starts out with their renowned citrus-forward gin and is then married with Palisada Plum Eau de Vie and macerated Colorado hops. The end result is a hoppy, softly spiced spirit so smooth you could even drink it straight. If you do, the flavor explodes in your mouth and the aroma opens your nose, and the whole experience warms you, lifts your spirits and sets your tongue a-tingle. A great surprise gift for the spirit lover who likes to expand horizons.
__________________________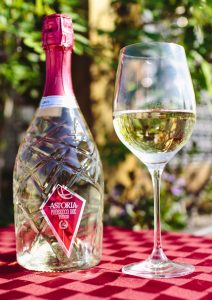 Astoria Prosecco DOC is a classic brand from Italy that comes in a cut-glass bottle that's lovely enough you might even want to re-use it. Semi-dry with a crisp taste and generous bubbles, you'll notice pear, apple and floral notes. It's a light, easy-to-drink wine for a toast or to pair with appetizers or a light main dish or even with desserts. And if you're still grilling – it's not snowing yet, right? – whether it's burgers, steak, chicken or fish, consider this flavorful punch from Astoria Wines. It combines their Prosecco DOC with lemonade and just a few other ingredients. It'll let you and your guests hang onto the feeling of summer. SRP varies ~$8 to $12.
Lemonade Prosecco Punch
4-6 cups prepared Lemonade
1/3 cup citrus vodka (regular is fine, too)
1 pint blackberries (or your favorite berry), frozen
3 sprigs fresh mint
1 750ml bottle Astoria Prosecco DOC, chilled
Stir lemonade and vodka in a gallon pitcher or punch bowl. Add berries and mint. Let the berries macerate for an hour or more. The longer it sits, the more the blackberries and mint infuse the flavor. Add the Prosecco, stir gently and serve over ice. Store leftovers tightly covered in refrigerator for up to 2 days.
____________________________
Apothic Wines is one of the wineries and spirit makers who've embraced the exciting new technique of melding aging processes. Their new Apothic Inferno – recently released as a limited edition – is aged in barrels that originally contained a completely different product – whiskey. We enthusiastically endorsed this melding phenomenon originally with Jacob's Creek Double Barrel Shiraz and Jacob's Creek Double Barrel Cabernet Sauvignon (review here).
Crafted in California and put up in bottles emblazoned with a raging-flames-inferno label, each batch of Apothic Inferno undergoes a time-intensive, barrel-aging process. The barrels – cut, shaped, and bound by steel before being charred with flames – were first used to age whiskey for a few years prior to becoming the home of Apothic's new red blend. Some palates may find the strong whiskey "soul" of the resulting red challenging; others may embrace it wholeheartedly.  If you're one of the latter, order some soon as quantities are limited. In any case, try it with a hearty meat dish and some whole grain bread to stand up to the flavor. Check for it in your favorite restaurants in Chicago. SRP ~$16.