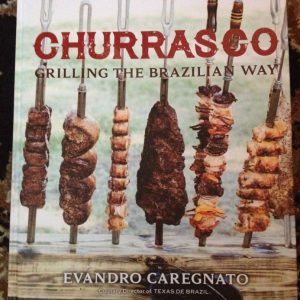 When you think of churrasco, what comes to mind is a vision of huge slabs of skewered meat dripping fat and juice. And the technique of grilling that produces those slabs is, indeed, the very definition of churrasco. In this new cookbook, called simply Churrasco by Evandro Caregnato, the culinary director of the Texas de Brazil restaurant chain. In it he tells you how he got started as a kid in Brazil and shares lots of stories about being a gaucho there and then his journey to Texas to join the cowboys as master churrasco chef and consultant to the then-new Texas de Brazil restaurant.
You will definitely learn all about how to cut, skewer and cook the way meat-loving Brazilians do to coax the most flavor out of every cut of meat with their special methods. And how they get maximum results out of so many different sections of the various animals, be it pork, beef, lamb or chicken. Recently experienced for the first time this meat-lover's parade of grilled muscle and flesh at
Fogo de Chao (review here
).
In this book you may also be pleasantly surprised at the richness and variety of other dishes from Brazil. Imagine a book about grilled meats giving you a recipe for a Cold Savory Torte made of white bread layered with chicken, cheese, and tuna and seasoned with mustard, cornichons, carrots, smoked paprika, lemon and parsley. Mmm.
Think about this one: Spinach Cannelloni, made with homemade crepes and a filling of sauteed spinach and garlic mixed with heavy cream, parmesan and cream cheese. Oh, my! And you'll find that Squash Ravioli is no longer strictly in the hands of Italy – this Brazilian version is served with a brandy-sage-cream sauce with shallots and porcini mushrooms. How about caramelized cinnamon-and-clove-scented squash served with a spoonful of sour cream? The recipe for beef-bone stock sounds great – like chicken soup with steak instead of chicken. Nutritious, comforting and a great way to use up bones after you've grilled some meat.
The recipes don't stop there but include desserts, sides and potatoes. The book is an inspiration, meat lover or not. Nice gift for both aspiring and experienced cooks.