Recent tastings from wide-flung areas of the world have yielded a fresh list of possibilities for your holiday edification and enjoyment. Consider one of these under-$20 selections for your holiday celebrations.
California's Little Black Dress label
We love it when wineries come up with fun names for their brands. Take, for example, the label  "Little Black Dress" (LBD). Stirs up visions of sexy intrigue or at least something elegant, doesn't it? Recently sampled a couple of their reds and enjoyed them.
1. Diva Red. Winemaker notes: Decadent notes of dark plum, cocoa and caramel leading to a finish accented by hints of cinnamon and chocolate-dipped strawberries. We found it a pleasant medium-bodied red blend that sits comfortably on the palate, works pleasantly on the nose and goes nicely with food of many kinds. Well worth a try at SRP ~$8.
2. Little Black Dress Cabernet Sauvignon. Consider this value-priced rich red for your everyday wine. Winemaker notes:   Rich aromas of dark berries and toasted oak, a hint of vanilla spice and a lasting finish. Again, well worth trying at an SRP of ~$10.
Nero d'Avola elegance from Sicilia DOC
Speaking of "little black," consider the Nero d'Avola grape –  indigenous to Sicily. For centuries Sicily has been a benchmark for the global wine market and this grape variety is an icon of Sicilian enology. Today a new generation of winemakers have lifted the "little black grape" to new heights of elegance and drinkability.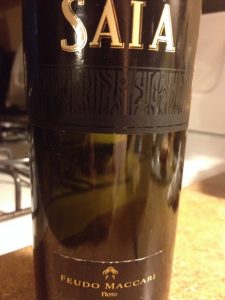 3. Nero d'Avola Feudo Maccari Saia 2011 Sicilia DOC. This Saia has lush, deep aromas and flavors of dark and sour red cherries, spearmint, spice and oak. Palate flavors are velvety, plush, and concentrated, balanced by fine acidity and ripe, sweet tannins, before a long finish. A superb match for full-flavored meats and game, especially stews and roasts. Saia, like all these wines, balances freshness with the ability to evolve over time. SRP ~$20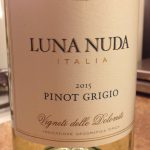 Lovely Pinot Grigio from Northern Italy
4. Luna Nuda (Naked Moon) Pinot Grigio Vigneti delle Dolomiti IGT 2015. Born in the perfect-for-Pinot-Grigio clay soils atop the saw-tooth ridges, snow-capped peaks, and alpine meadows studded with glittering waterfalls in Alto Adige, this wine of straw-yellow with green lusters brings rich aromas of fruits like pears and apples. Well-balanced and structured, the taste is dry and smooth with a pleasing minerality. Perfect for pairing with lighter foods and fresh-water fish. At 12.5% alc., this is a sturdy white wine that makes a nice aperitif, too. SRP ~$15
JaM Cellars "breakfast" trio of wines
Butter, Toast and Jam sounds like a breakfast menu, but it's actually the names of three different wines – one red and two whites – that come from JaM Cellars. These are a cut above your everyday house wines and guaranteed to make you and your guests feel special. Perfect to go with your Thanksgiving or other holiday meals. JaM Cellars wines are available 
nationwide
 and through the website at http://
www.jamcellars.com
.
5. 2015 Butter Chardonnay offers ripe, stone fruit and baked-lemon aromas and is cold fermented to rich creaminess, aged in a blend of oak giving this wine a lovely, long, vanilla finish. 14.89% Alc. by vol. SRP ~$15
6. 2014 JaM Cabernet Sauvignon has soft, dark berries and plums on the nose and palate, and is aged in new oak to smooth and round the wine, adding a touch of vanilla. 15.1% Alc. by vol. SRP ~$20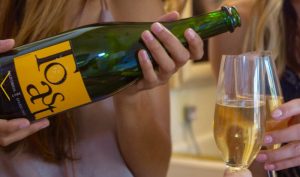 BONUS: Non-vintage (NV) Toast Sparkling, made with traditional méthode Champenoise techniques, offers juicy aromas of honeydew, white peach and orange blossom followed by tastes of tropical pineapple and honeydew combined with a light toastiness. It's light at 12.5% Alc. and, okay, at $24.99 a little over the headline-promise of $20/bottle. But we didn't count it in the original 7, so think of it as a bonus recommendation.
South African sparkling wine
Did you know that South Africa is among the many nations that are becoming producers of respectable wines these days? Had a chance recently to review a couple of sparklings from that region. One in particular seemed a worthy addition to a list of decent possibles for holiday meals – or any time you're in the mood for some bubbles.
7.
Boschendal Pinot Noir Chardonnay Brut NV
. This sparkling wine, made with Methode Cap Classique (South Africa's version of the traditional Champagne method) is a clear golden color with a fine effervescence. Aromas of fresh lemon fruits along with a creamy flavor make it a pleasant, value-priced bubbly that's more complex than many similarly priced Proseccos and will make an equally nice accompaniment to lighter foods and even desserts. SRP
~$11
Have fun with these!