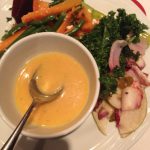 The front corner window of Fogo de Chao Brazilian steakhouse, at 661 N. LaSalle and Erie Street, contains a large open fire pit. And when the attendant inserts giant skewers of meat into several evenly spaced holding slots, it means – as it does in Brazil – that this restaurant is now open for business. And that's one way you know that Fogo de Chao is serious about meat. Went in to try several new menu items for fall with a view to telling you about them.
Yes, as the menu indicates, this place is all about the meat. But the warm mini popovers they serve as soon as you sit down are murderously good – and the little floury gems are even more irresistible with bits of cold butter (you have to ask for that). Had to restrain myself – knew there was a barrage of meat coming soon. But first, the beautiful Market Table and Feijoda Bar.
Vegetables, legumes and grains galore – gorgeous with color, shine, freshness, contrast. Just beautiful, and tastes as good as it looks. And here they sneak meat into even the new-for-fall endive pear salad – peppery bacon complements the lightly dressed fruit-greens-onion combo. For the kale salad, raw leaves are massaged with a dressing just puckery enough to offset the slightly bitter green. A colorful tabbouleh salad is chock-full with fresh herbs and onion and just touched with oil. The carrot and green bean medley – deliciously fresh, lightly dressed, studded with sesame seeds and cooked a pointe – tastes of the garden.
The special new-for-fall blackberry cocktail, Blackberry Azedo, is made with fresh blackberries muddled with mint and shaken with Hendrick's Gin, Crème de Cassis (black currant liqueur), and a house-made lime sour. A drink with delicate blackberry flavor minus the harassment of the seeds – pinkish purply color, lightly sweetened, topped with a fresh mint leaf. The server couldn't quite get why I was asking to have the cocktail as dessert. Would've been a nice finish to the meal. But it didn't go amiss, either, as an accompaniment to the food.
When you're seated for the full meat-lover's dining experience ($52.95 any night of the week), you're given a little cardboard coaster that acts as your signal to the waitstaff that you're ready to quit eating salad and start eating meat. When you turn it from red (salad) to green, they start bringing huge skewers of many different meats and combinations of meats that they slice off for you. And it's nice that you can call upon any server – everyone in the dining room works as a team so you always have someone nearby who can assist you with questions or requests.
The new-for-fall butternut squash and sweet potato soup was creamy and satisfying – perfect for when fall finally arrives in Chicago. And since in Brazil butternut squash is a winter staple, they've created a unique salad of it roasted with cinnamon and honey and then tossed with cranberries and feta.
Okay, first slice of meat, recommended by the server, is the super juicy bottom sirloin off one of the giant skewers. Good flavor – fire-roasted with only salt for seasoning, you really get the flavor of the meat. Which may be all you need. Or maybe you'll like it dipped in the horseradish sauce or one of the other half dozen choices (BBQ, steak sauce, chimichurri, hot sauce, mint jelly for lamb). Sides that come with both meat and fish options include garlic mashed potatoes (super light and airy if a bit salty), fried bananas, and polenta cut in French-fry-style prisms, deep-fried and dusted generously with Parmesan. Wanting to see what the chef would do with fish, we also requested the baked sea bass option ($34.95 a la carte at dinner, $42.95 as full dining experience – or you can order just the Market Table and Feijoda Bar for $28.95).
Back to the main show. Next tried a slice of top sirloin rare. Then a slice of prime sirloin (juicy, good, rare and salty). Both very nice. They are able to slice it off the skewer – you prevent the meat from falling by grasping each cut in a small pair of tongs provided to you for that purpose – in precisely the doneness you want. Impressive. Did not partake of the bacon-wrapped chicken, the pork chop, the chicken and sausage, pork ribs or lamb skewers, but they all looked good. Easy to see why a lot of hungry guys like this place!
The grilled chicken breast was somewhat dry inside but with a tasty char on the outside. It was the perfect chance to use one of the sauces to enhance the taste experience.
While waiting for the sea bass (it takes about 20 minutes to prepare), notice that Fogo has a separate good-sized bar area in addition to the giant dining room. On this early Thursday evening a crowd has already gathered. As the minutes go by, the dining room gets even fuller. The meat-bearers wander freely among the diners with skewers of juicy animal flesh. This grilling technique is the Brazilian steakhouse way, and it's known there as churrasco. 
The sea bass arrives – cooked perfectly. Lightly crisp on the outside, exuding lovely juices with every tender cut of the fork, and sitting on a bed of large spears of asparagus cooked al dente. The server even brings on a new set of warm sides as the others have grown cold waiting. This Fogo de Chao chef certainly has skills in all areas, and the team is on top of service.
Just after 7 pm, and the place is getting really crowded. What a draw – unlimited amounts of meat, almost-cooked-to-order for one price. For serious meat lovers this beats all to hell the price of a traditional a la carte steakhouse experience. Fogo de Chao is open for lunch (except Saturdays), closed for a bit, then open for dinner each day. And check out the Fogo sampler bites at happy hour (4:30 to 6:30) in the bar only.
Visit the the very bottom of this web page for pricing on all lunch/brunch/dining options