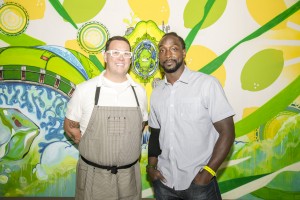 Graham arrived cool as a cucumber, dressed in his, as he described them, poured-into-them-can't-get-any-tighter lime green pants, and rarin' to go. We sat down just before the opening night of the Sierra Mist art-food-music Collaborative Project to relaunch one of PepsiCo"s flagship products, Sierra Mist. Removing his trademark white-framed glasses. he fired off quick and sure answers to a few questions about his partnership in this project.
1. How did Sierra Mist choose you to work with them on this?
The idea of showcasing the synergy and relationship between art and food – how it all comes together – I always try to be at the forefront of that. I don't want to say I was the obvious choice, but I do believe in it. I take my culinary team to the museum to get inspired by color and shapes. And I believe nothing is more important than the journey to find your own voice. You never want to copy.
2. What has been the most fun about this partnership?
Having the artistic freedom to come up with these dishes. It would be easy [for Pepsico] to say it has to be this way, it has to be super user-friendly. Instead, I've had carte blanche. If I want to do something with lime and coconut with citrus accents, that's okay. The fewer parameters set, the more creative you are allowed to be.
3. What has been the biggest challenge?
To have all this freedom! You want to do something because you want to reach an audience. But you just want to be sure people will like them – you don't want to be so artsy that you're just out there.
4. Will your Bistro be featuring any of the dishes you've created and for how long?
Yeah, maybe the soup – it's coconut-cauliflower with lime. As we get into the colder weather something like that would be good. It will stay on the menu as long as people keep ordering it.
5. What would you like to tell readers and other chefs about using Sierra Mist (or any soda) in cooking?
When you look at soda, it has a mouth feel, this effervescence, that works well with cocktails. Then there is the flavor of the soda itself. Sierra mist has a lemon-lime flavor – and I think lemongrass, ginger, cilantro. I think Thailand. I think cranberries – cooking them down and reducing the soda to make a glaze.

Just like at home, you try to unlearn things from the past, and never turn your nose up at new ideas.
I can tell you this: I didn't get to taste the soup, but if the cranberry dipping sauce he made that night is any indication, I can't wait to try that soup for what I know will be an intense flavor hit. Join the conversation – #sierramistcollab – and get to the free closing night party tonight! You're invited.