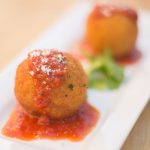 North Halsted Street in Chicago is well known for its excellent restaurants. One long-time spot is Trattoria Gianni, now celebrating 30 years tucked into its cozy space at 1711 and rubbing shoulders comfortably with some of the giant stars in that firmament such as the much-lauded Boka and Alinea.
We were able recently to sample some of Trattoria Gianni's popular and enticing menu items. We could easily have made a meal with just the appetizers. My experienced restaurant aficionado friend said the tender Arancini Siciliani – deep-fried saffron risotto balls stuffed with Bolognese, peas and scamorza cheese – were excellent. Given her extensive travels around the world, that's saying something. The rolled eggplant with herb-y goat cheese stuffing was very good, and the tomato sauce light and lovely. Very nice to know that all the pastas and the sauces are hand-made in house. The Rigatoni alla Nocerino, made with sun-dried tomatoes, mushrooms, olive oil, garlic, basil in a cream sauce, was outstanding.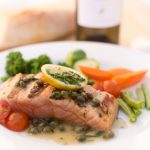 All the other pasta dishes are obviously made with love, many presented with variations of the basic tomato sauce. The meatballs are classic – tender and juicy. The homemade pappardelle and tomato sauce, the seafood pasta (mussels, calamari, octopus, etc.) and several other pasta dishes made for pleasant eating. While the pumpkin ravioli was very nice, the crab-filled version hit an off note for us with the salt-heavy, canned crab in the filling. Pasta dishes range from about $16 to $20.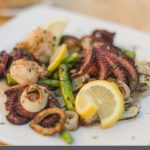 The restaurant offers whole wheat and gluten free pasta options, and you smaller eaters will be glad to know you can order half-orders of most pastas. Secondi Piatti (main course) options include duck, filet, chicken, pork, and seafood, all served with sides like vegetables, polenta or roasted potatoes, and all priced in the $23+ range.
All the care invested in these dishes, plus the comfortable surroundings, makes this a nice place to relax and indulge in some tasty Italian food and wines. When the weather is nice, remember you can enjoy your meal on the inviting patio, charmingly decorated with flowers and lights. During our visit, the owners were on site and carefully tending to their customers, and the overall service was friendly, efficient and warm. It felt just like what it was – an Italian family taking care of us.