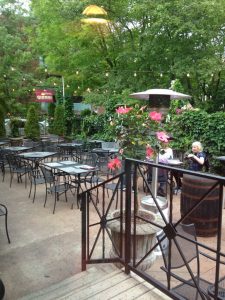 Sitting on a block of Halsted in Lincoln Park that's also home to high-flying successes like
Alinea
and
Boka
can be a challenge for any restaurant.
Trattoria Gianni
, 1711 N. Halsted, takes it on as a comfortable Italian oasis that has the distinct summer advantage of a large, enclosed, charmingly decorated patio.
On a recent press visit we sampled some of the restaurant's signature dishes. Rice balls that were tender inside and deep-fried just enough to give a hint of crunch on the outside. Meatballs made with pork and veal. Pasta veggie primavera. Italian-dressed romaine and tomato salad with Italian bread. Italian food, filling and plentiful.
Prices are reasonable, and this is an ideal place to come before or after the theater – Steppenwolf Theatre is across the street down the block. Be forewarned that the air conditioning works much better in the front section of the restaurant; the hot day we were there it was uncomfortably warm in the back section. But if it's a nice day, don't hesitate to take advantage of the patio. This patio is beside the restaurant – not stuck out on the sidewalk as so many are these days – and runs the length of the building, so it's roomy. A glass door opening to the patio allows servers a clear view of tables and easy access to patrons. Sadly, it was raining the day we visited so we didn't get to experience it personally, but I can picture us enjoying some wine or a summer cocktail among the flowers and the twinkling lights.