You know the name Freixenet (pronounced fresh-a-net). Its black-bottled Cordon Negro Brut namesake has been one of the world's leading sparkling wines for decades. It was the first non-French sparkling many baby boomers tried back in the 70s. And oh, how we liked it.
When sparkling wine is made in Spain via methode champenoise, it's known as cava. Freixenet makes cavas and other types of wine, and it also owns a brand known as Segura Viudas, makers of several value-for-dollar cavas. Dry. Sparkly. Delicious with food.
When you visit that lovely winery outside Barcelona in the spring, they'll set up a red-hot barbeque on the patio and roast some calçots for you to peel and eat by hand. Calçots are a special variety of spring onion grown in Spain and served with a fabulous romesco sauce made of ground nuts, red peppers and spices. Naturally, you'll be invited to wash them down with one of Segura Viudas's excellent bubblies.  Watch out! It's all so good you may have trouble stopping…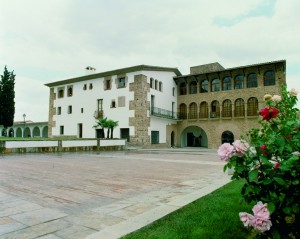 Read about these beauties on the Segura Viudas website.