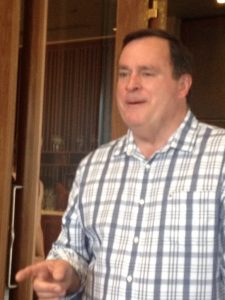 It's unusual to find a winemaker – someone whose name is already associated with a justly famous brand – setting out to create another completely different brand. But Dennis Cakebread, long associated with his namesake wine brand Cakebread Cellars, came to Chicago recently to introduce and promote his new wine brand, Mullan Road Cellars out of the Columbia Valley, WA area.
Dennis undertook to showcase his new products at hot new restaurant location,
Swift and Sons, 1000 W. Fulton Market in West Loop
. This
Boka Group
affiliate undertook to open for lunch – they don't usually – to help Dennis Cakebread showcase his new wines along with a few from Cakebread. Dennis takes a warm and folksy approach to touting his products; it was a pleasure hearing his stories about the winemaking life.
The Cakebread Chardonnay a 2014, a 4-star beauty, went perfectly with the butter-poached king crab leg set off with a dribble of miso sauce and a slice of preserved lemon.
Then came a couple of slices of roast chicken – gorgeously succulent and tender – with succotash and bacon lardons, served with an extraordinarily lovely Pinot Noir from Cakebread. We give a rare 5-star rating to this Two Creeks Pinot Noir 2014. The wine is available retail at around $40 and, for the times you choose to spend that much for a bottle of wine, this would be a great one to invest in.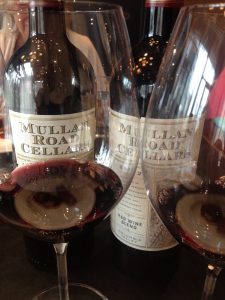 Next, a narrow but thick slice of medium-rare, firm-textured rib roast came out accompanied by chanterelle mushrooms in a bordelaise sauce. For this course Dennis presented two Mullan Road Cellars reds blends, from 2012 and 2013. Their typical  blend is composed of Cabernet Sauvignon, Merlot and Cabernet Franc.  The 2012 was delightful; Wine Spectator gives it 90. The 2013 tasted somewhat tart at first, but smoothed out after it breathed for a while. It's certainly a wine worth watching. Both vintages are on the market at a retail price of around $45, give or take.
Those who stayed to sample the Blackbottom Pudding dessert – multiple layers of black cocoa crumble, baked dark chocolate mousse, milk chocolate pudding and white chocolate sorbet – raved about it afterwards. From the description, that dessert alone sounds like enough incentive for another trip to Swift & Sons.
Mullan Road Cellars' biggest distribution for export so far is in Canada, with the Caribean second in line, then Korea, Japan and Hong Kong. Look for more from this brand. And Swift and Sons did a stellar job with the pairings to create a memorable occasion.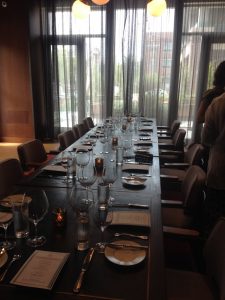 P.S. Might want to try the bar, too. Cold Storage, attached to the Swift and Sons' space, offers appetizers, entrees, and a nice-looking seafood station along with a full bar.