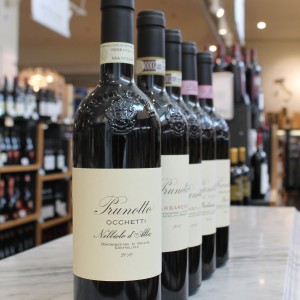 Eataly Chicago is dedicated to providing a full schedule of educational programs around food and wine. A recent event featured wines by Prunotto, the Antinori family's picturesque wine estate among the Langhe hills of the Piemonte region of Italy (located in the southern section of the cuff of the Italian boot-shaped land mass).
Signor Emanuele Baldi, representing the brand, said Prunotto made the Italian wine map after the Antinori family, with 600 years of wine-making fame in Tuscany and Umbria, turned its attention to Piemonte (aka/Piedmont). He presented a small array of tannic reds from the area: Barbera, Barbaresco, and Barolo, all paired with complimentary dishes from the chef at Eataly's cucina.
First course, served with the Barbera and the Barbaresco wines was Vitello tonnato—melt-in-your-mouth-tender, palest-pink poached veal with a smooth, creamy tuna and caper sauce—delightful, light and piquant with a drizzle of fresh lemon to set it off. The second course consisted of a platter of salumi and formaggi, tidbits of succulent preserved meats and rich, smooth cheeses also from the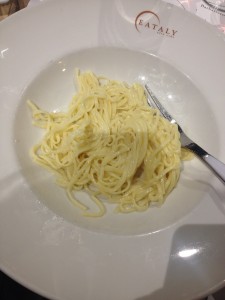 Piemonte region.  He pointed out that eating any blue cheese with tannic wines is always problematical; the only cheese, he said, that can reliably go with almost any wine is classic Parmigiano. The third course was a beautiful nest of egg-rich noodles covered in a butter sauce perfumed with white truffle essence. Delicious.
The Barbera Pian Romualdo D'alba DOC 2012 with a ruby a color was representative of the high acidity of this variety of grapes as grown here in clay soils layered with sand and seashells. Here, these grapes  tend to produce wines that are fresh-tasting with more fruit and more acidity. This particular wine improved with time after opening, gradually smoothing out some of what many Americans would perceive as sharpness.
The two Barbaresco wines, both DOCG appellations (the highest designation in Italian winemaking), included Prunotto Barbaresco 2011 and Prunotto Bric Turot 2008. Each had a beautiful garnet color which he said they would always have, no matter how long you age them. They show more delicate floral than fruit and are considered more feminine and are made with Nebbiolo grapes,  grown only in Piemonte. Wines made with Nebbiolo grapes show elegance and finesse similar to what Americans find in Pinot Noir varietals. Good with pasta, stewed meat, roast duck and others.
The two Barolo wines, both also DOCG appellations, included Prunotto Barolo Classic 2009, and Prunotto Bassia Barolo 2008. These two, also made with Nebbiolo grapes, were the deepest and richest wines of the evening. The presenter described them as more muscular, with higher tannins and greater structure, not unlike Cabernet Sauvignon wines from America. Excellent paired with the rich, buttery noodle dish. Each of these is a perfect companion to a variety of salumi, meats and cheeses.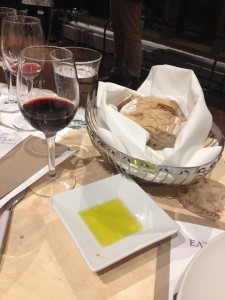 It was a pleasure to hear the presenter give a famous Italian maxim, "The best wine is the one whose bottle is empty first." So, if you're one who says,  "Hey, I just know what I like," that means your opinion matters as much as any expert's.
By the way, their website is surprisingly easy to use. For more information, visit the Prunotto website.