Most of us get excited when someone introduces healthier versions of tried-and-true ideas. Below are quick reviews and links to a new line of portable healthy eating from Atlas.
While we often look upon our wine and spirits beverages as the be-all, heck, sometimes we just want to imbibe something refreshing that isn't mind-altering or too bad for us. Admittedly, my recently re-aroused passion for Diet Coke (used to adore Diet Dr. Pepper) has me worrying that I'm consuming way too much artificial sweetener and possibly caffeine. So when a new vendor introduces a less-sweet, non-caffeine, still-tasty drink – especially if it's bubbly – I am all over trying it out. Check out the below notes on Sipp Sparkling, Som Flavoring Syrups and Petal Botanicals.
Seriously healthy protein bars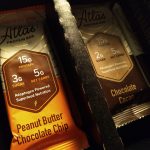 Atlas Protein Bars are made with vegetable glycerin, which acts as both a thickener – along with nut butters or other items – and a sweetener, in combination with the brand's unique "adaptogens superfood performance blend – ashwagandha extract and maca root powder." Said to be made completely with "whole natural foods," the appeal is a much healthier way to satisfy a sweet tooth while getting lots of protein and fiber and yet not risking dental or diabetic issues. We found them to be perfect for grab'n'go breakfast, snack or dessert. Satisfying right away because of the creaminess and the touch of sweetness, and satisfying for longer because of the fiber and protein.
Flavors come in cool combinations like raspberry peanut butter, mint chocolate chip, chocolate cacao, almond vanilla chai, and more. Each bar is about 220 calories. These semi-creamy, healthy hits of nutrition, fiber and protein seemed to help fight the hungries anytime of day. Like any protein bar, their portability is part of their appeal. And one of the best parts is the fact that these are missing many of the not-so-healthy things we find in many other brands of energy bars – like salt, added sugars and refined carbs. Half a bar is a  perfect way to curb  your hunger pangs when you're on the go – or just too lazy right now to cook.

Non-alcoholic flavor syrups and mixers
Non-alcoholic drinks are becoming more and more popular, as millennials seek out low- to no-alcohol treats that are lower in calories and added sugar. We just reviewed Petal Botanicals Sparkling water
A more recent couple of additions to the lineup include Som cane-vinegar cordials to use with your favorite bottled or canned sparkling water or to flavor a variety of exotic cocktails. Mix the pomegranate syrup – by the way, they are made with sugar but it's not outrageous for a flavoring element as opposed to dominating the drink – with vodka and voila! You've got an elegant glamorous martini-ish cocktail. I'm sure you can think of a dozen ways to use the many flavors like Thai Basil, Tangerine with Sea Salt, Ginger and more. The New York Times talks about Som flavorings and how the makers have begun calling these vinegar-based drinks "cordials" to mitigate the public's hesitation over a drink made with vinegar. Trust me, with the lovely flavors to focus on, you won't notice.
In case you don't feel like mixing, don't hesitate to try a few of the all-natural, organic-ingredient-rich Sipp Sparkling Organics beverages. The unique flavor combinations will set your imagination alight. Think Lemon Flower or Summer Pear, or Mojo Berry or Ginger Blossom, and imagine one as an aperitif or as a tongue-titillating treat with some of your favorite dishes. Oooh, can't you just imagine Lemon Flower or Ginger Blossom with Asian food? Other cool combos include Zesty Orange and Ruby Rose. Any of these also make a delightful chilled treat as an aperitif or snack. Just be aware, these have more added sugars. They're all sweetened with agave which isn't, strictly speaking, actual sugar but is slightly higher in calories than sugar and, therefore, not a great idea for diabetic diets. Get your first batch online or in town at Meijers, Kroger, Safeway and other popular markets.