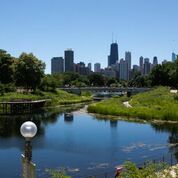 One of our favorite places in the city is The Patio at Cafe Brauer in Lincoln Park Zoo (2021 N. Stockton Drive). And they're now featuring live music 5:30-7:30 every Wednesday, Thursday and Friday, Various artists and groups perform. If you've never been, put this on your summer bucket list for sure.
Recently we discovered the beautiful Cafe Brauer second-floor, indoor-outdoor covered rooftop party/event space in that same lovely brick building that houses The Patio. With twinkling party lights, luscious bites and colorful banners everywhere, Cafe Brauer's party partners showed off their wares at a recent media event held in the party space on the roof. Some of the businesses you can engage on your own or as part of planning your Cafe Brauer party include:
love, sugar & grace – Beautiful bakery specialties for everyday and for all your social functions.
Entertaining Company – Catering delicious passed hors d'oeuvres, buffet stations, seated entrees, and more.
Kloeckner Floral – Gorgeous arrangements for holidays or any occasion.
Blue Plate Catering – 85 unique Chicago venues, award-winning cuisine. Green certified.
Frost Event Production: lighting, staging, video, audio and fabrics.
Chicago Vintage Weddings – Create the perfect ambiance from their collection of vintage items. Or let them host your event in their intimate venue, CV Atelier.
The Flower Firm – Perfect floral decorations for occasions from intimate gatherings to huge corporate events.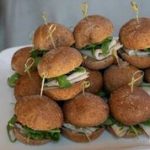 And in case you want to wander over to the Zoo before, during or after your party, look at this incredibly beautiful oasis you'll find just inside the Zoo Gate. So many reasons to do your next party at Cafe Brauer!