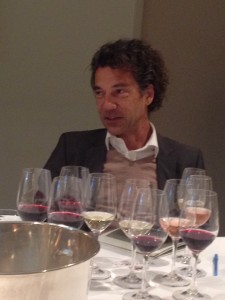 Jean-Claude Mas is a tall, handsome, slender Frenchman who has earned a respected place among experts in the wine world as the leader of Domaines Paul Mas. He said while in Chicago recently that he never grows tired of talking about his wines because he doesn't talk about the technical side. He speaks from his heart about the emotional side of winemaking.
He spoke with obvious pleasure and pride about the wines he's been creating in Languedoc since 2000. His deep enthusiasm for the process and the joys of making wine, tasting wine, and enjoying wine with friends and customers came through as he spoke with passion about his dedication to creating "everyday luxury" for wine consumers.
Domaines Paul Mas is a leading wine producer from the South of France. At it since 1892, the Mas family bequeathed 35 hectares of vines in Languedoc to Jean-Claude Mas in 1998, and he has taken the reins with gusto and imagination far beyond where the family had previously gone.  Now owner and producer, Jean-Claude Mas takes full advantage of the many variations on Mediterranean climate and the wide array of terroirs available in the region by establishing ten separate vineyards.
He makes the most of each location by hiring winemakers who have the technical skills needed and who share his commitment to sustainable growing practices, while he himself makes the critical decisions: when to pick the grapes and so on. His portfolio of fine-yet-affordable wines has been instrumental in propelling forward what many call the "new Languedoc" or the "new wave" of French wine.
The Mas culture and philosophy is called "luxe rural" because, he says, "we cherish our rural roots, we strive for excellence in everything we do. Our wines are the end result of our desire to delight and thrill." And yet, he makes a point of honor that almost all of his retail wine prices be kept under $20 US–the point at which many buyers begin to question value for dollars.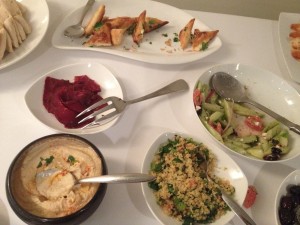 As proof, almost all of the wines showcased at Naha restaurant, 500 N. Clark St. were extraordinary and yet are available at that mark of under $20. The wines were a treat for the palate, and the elegant table setting in the downstairs private dining room at Naha was a treat for the eyes, while the imaginative American-and-Middle-Eastern-inspired tapas made delicious satellites to the starring wines.
It's not easy choosing memorable wines from among the thousands of possibilities. But based on this tasting, you should be able to choose almost any wine from one of the Domaines Paul Mas estates and be sure you'll get a highly drinkable fine wine. One thing you could do is have this list with you when you speak with your wine merchant. Pick the varietal you're in the mood for and ask for a bottle from one of these ten estates (see photo of map below):
Château Paul Mas, Clos de Savignac & Clos des Mûres, Montagnac;
Domaine Silène, Saint Pons de Mauchien;
Château Paul Mas, Conas & Clos de Moulinas, Pézenas;
Mas des Tannes, Montagnac;
Château Teramas Astruc, Malras;
Château Arrogant Frog, Gaja et Villedieu;
Château de Martinolles, St Hilaire;
Château Crès Ricards, Ceyras;
La Ferrandière, Aigues-Vives; and
Château Jérémie, Fabrezan.