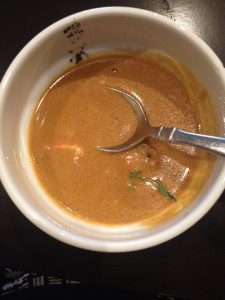 At the new Knife restaurant, 4343 N. Lincoln Ave., Chef Tim Cottini is bringing the Chicago steakhouse concept to a new edge with totally re-imagined dishes that incorporate farm-to-table freshness in meats, seafood and vegetables. Love their Lobster Bisque! Read more details and preview the menu here.
But Knife doesn't stop at the food. Also not to be missed are the ethereally creative cocktails designed and named by Knife mixologist Anthony Muenger and served with flair, along with a generous supply of his entertaining personal stories and light-hearted humor. So, first, come in for a visit and sit at the bar. Revel in the feel of a unique, sensually rounded-on-all-edges marble bar top, shaped like a giant italicized "L" and set an an angle to the handsome bar wall. Let your eyes wander from the blood-red accent wall to the details of the smoothly swirled wall adjoining it. Makes you feel bathed in color and texture.
Looking to create a downtown feel in Chicago's Northcenter neighborhood, Knife will offer many Wine Enthusiast-recommended wines as well as a collection of unique and fantastically named cocktails (derived, says Mixologist Muenger, from terms in the Dictionary of Obscure Sorrows). Ask him to show you how he uses a port hole infuser to soak various fruits in a lavender-infused German rye whiskey. The resulting cocktail, called Enouement, matures and changes as you pour from the infuser throughout your dinner, eventually transforming itself towards the end of the meal into an amari-type digestif.
Muenger says Chef Cottini accepted the offer of the whiskey people's barrels to age Knife's own steak sauce in – so look for that unique treat with your bone-in ribeye. Another of his unique cocktails is his sour-style version of Clover Club, served with a bit of raspberry and Roobios tea. The Ellipism cocktail has tiny house-made spheres of Remy Martin VSOP cognac floating in a delicious mix of house-made orange liqueur, lemon and bitters. $13.
In short, Knife is a hot new contemporary seafood and steakhouse where you can celebrate with unique food and drink in Chicago. Whether it's a special occasion – or just Wednesday night – you're bound to find something to delight your tastebuds.