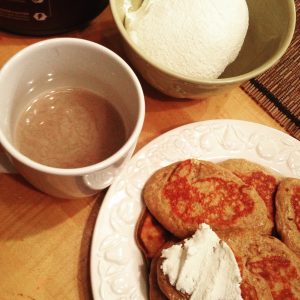 Rum is one of those drinks that can vary wildly in taste and smoothness. Some of the best are so smooth and delicious they can be enjoyed neat – like brandy/cognac, sipped as a post-prandial libation or nightcap. One of the leaders in the rum game is Captain Morgan, and they make a dozen different varieties from spiced (love it!) to regular to tropical flavored and super-premium. Below are a couple of rums and a unique chile liqueur we just learned about.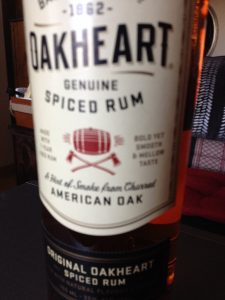 Oakheart Spiced Rum from Bacardi is delicately but richly spiced and tastes utterly lovely all by itself, even without ice. In a recent blind taste test, results indicated Oakheart won out over Capt. Morgan, but of course, you must judge for yourself. Oakheart is a clear winner for our nightcap needs around here.  Love the subtle layers of flavor and the gentle spicy warmth going down.
Uh, yeah. You can mix this with cola, but we think it's a shame to drown all these flavors: "characteristics of oak barrel staves with the essence of bourbon or brandy, a hint of smoke from the charring process, background notes of dried fruit and heavy delivery of sweet creamy butterscotch. Notes of custard, maple and honey flavors [emphasis ours!] coat the tongue and [the drink] finishes with a touch of pepper."
Havana Club Añejo Clasico Puerto Rican rum is a dark rum with oaky hints of vanilla and almond, along with fruity notes akin (think pineapple and apricot) with a robust and velvety finish. It's really good in mixed drinks like the one in the recipe below. Perfect with a weekend brunch or a fireside session.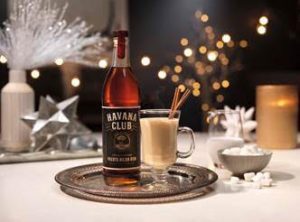 The 8th Day
1 ½ parts HAVANA CLUB Añejo Clásico Puerto Rican Rum
3 parts Chai tea
1 ¾ parts coconut milk
1 part simple syrup or 1 tbs white sugar
Method: Prepare Chai Tea. While the tea steeps, warm coconut milk over medium heat, do not boil. Combine ingredients in a high temperature resistant mixing glass, adding rum last and stir. Serve in an Irish Coffee Cup or preferred glass coffee cup, and garnish with a cinnamon stick.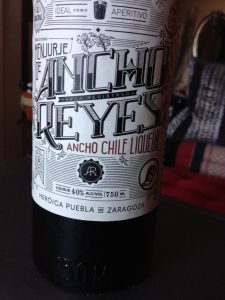 And then there's the unique Ancho Reyes Chile Liqueur from Puebla, Mexico. It's good for after-dinner or aperitif, depending on your mood and your menu. This has been a favorite around here since we received the review sample. Thick and creamy, dark amber color, heat and peppery flavors make this a unique experience for your tongue and nose. Maker's notes say: "Pleasantly sweet, followed by chile with moderate heat and slight acidity. Hints of spices, tamarind, plum, cacao, apple and almonds then subtle notes of fine herbs. A pleasantly lingering pungent taste on the finish." Works for us!