You may be wondering what to toast the holidays with this year. Even though we Americans are welcoming sparkling wine for more and more occasions all year long, Christmas and Hannukah and so on are perfect opportunities to treat ourselves to this most delightful of libations. Below are a few ideas for sparkling wines and suggestions for a fine red Cabernet, a unique creamy liqueur and a few elegant brown spirits.
_____________________________________________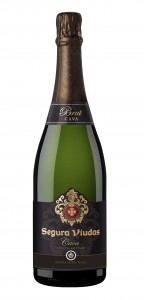 Segura Viudas Brut Cava comes from the sparkling wine experts at Freixenet. It's their value-driven offering–fine bubbles and sophisticatedly dry, Segura Viudas is a bargain at ~$9.95/750ml. Serve as an aperitif or to toast with, or with salmon, chicken and lighter meats for lunch or supper, or even with nuts or cookies after a meal or for an afternoon visit. Nothing says "I'm glad to see you!" like a glass of good bubbly. Like its parent company, The Freixenet Group, this year Segura Viudas is introducing its own iconic holiday commercial.
The Freixenet brand is a pop culture icon in Spain thanks to its annual  "Felices Fiestas" ad campaign. The company enlisted superstar Liza Minnelli in 1977 and thus ushered in a new era in advertising. Their ads have featured international superstars like Gene Kelly, Shirley McLaine, Paul Newman, Kim Basinger, Penélope Cruz, Gwyneth Paltrow, and Shakira as seasonal spokespersons. Now the people of Spain happily anticipate the appearance of the Freixenet holiday ad each year.
This year the
Segura Viudas holiday commercial
features indie rock artist Eleanor Friedberger – watch for her imminent CD release and tour – playing the holiday classic "Auld Lang Syne" by clinking flutes filled with Segura Viudas
cava
. The spot was produced by
Segura Viudas brand manager Josep Ferrer
, a 4th generation member of the family that founded Freixenet. "It's been an honor to follow in the footsteps of my grandfather and father in producing this holiday themed ad for one of our younger brands," he said of the spot. While honoring the Freixenet tradition, he created this one especially for the Internet generation.

Segura Viudas Reserva Heredad is a Spanish Cava made in the traditionalméthode champenoise.  The elegant bottle reflects the premium quality of the cuvée and makes Reserva Heredad an impressive-looking gift for any wine lover. Open the pewter-embellished bottle with the crest of the Segura Viudas family and catch the aroma of brioche followed by hints of honey and dried fruit. ~$25
______________________________________
And just for fun, here are two recipes to liven up your holiday parties using another of Freixenet's star products, Cordon Negro Brut cava (they ought to work as well with Segura Viudas):
The Cinnemosa:
Pour 1.5 ounces of Cinnamon Whisky into a glass with 3 ounces of Cordon Negro Brut Cava. Fill remainder of glass with 1 ounce of blood orange juice. Garnish with orange peel.
The Cava Julep:
Combine 4 mint leaves with 1tsp superfine sugar, blueberries and a few drops of water, and muddle well. Add 2 ounces of bourbon whiskey, and stir well. Strain into a Collins glass; add ice cubes and 4 ounces of Cordon Negro Brut cava. Garnish with 2 mint leaves, and serve.
____________________________
This year Freixenet is importing a limited supply of
Katnook Estate, a premium Cabernet Sauvignon
that might bring you red-wine lovers into closer communion with your higher wine self this holiday season. Katnook is one of Australia's premier South Australian wineries that produces a full line of highly praised Cabernets. The Katnook Estate brand is from the vineyards around the town of Coonawarra in the Limestone Coast zone of South Australia and has been producing wines there since 1896. Today they craft these exceptional Cabernets from vines growing in the ideal climate conditions of the "terra rossa" soil of the region.
The Katnook Estate Founder's Block Cabernet 2013 is a lovely, medium-bodied wine, with a refined nose of red berries, violets and hints of mint. It will make any meal special – pasta, red meats, quail, and smoky or spicy flavors. Tasting notes say: "Well proportioned with generous fruit and a persistent finish." We say it's just a beautiful wine that gets 92 points from multiple reviewers.
Prices for Katnook Estate Connawarra Cabernet Sauvignon
vary by vintage and may range from ~$15 for younger years up to ~$30 and more for older vintages. Get one for now and one for your cellar.
________________________________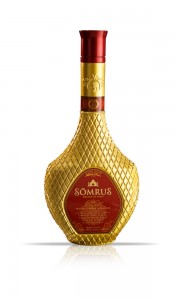 SomruS (it means "nectar of the gods") is a creamy liqueur made with an intricate blend of exotic Eastern spices, nuts, Caribbean rum and pure dairy cream. Your nose will detect hints of cardamom, saffron, almonds, pistachios and rose in this Original Indian Cream Liqueur that goes beautifully on its own in a chilled glass or can be used in cocktails, baked into desserts or added to a cup of chai. Let your imagination take over. It's much more exotic than, say, Irish cream liqueur, and unless your guests have themselves already purchased a gold-coated, UV-protected bottle of this modern interpretation of a beverage that has its roots as far back as 2600 B.C.E., they'll never guess what you're serving or how you flavored that custard or cake.
Try this simple, rich cocktail: Decorate a martini glass with liquid chocolate. Then mix in a shaker 1-1/2 oz. chilled SomruS with 1-1/2 oz. chilled Kahlua, shake vigorously, pour and enjoy. N.B. You can skip the decorating part, and the drink will taste just as good.
________________________________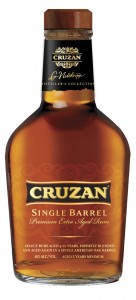 Cruzan Single Barrel rum. FYI, "single barrel" refers to the fact that after its initial aging, the rum is handpicked and blended before it is barreled for a second time in new American oak barrels and slowly aged again to perfection.  Smooth and silky and spiced with toffee, vanilla and a slightly smoky fruitiness. So beautifully blended that it makes a perfect aperitif or after-dinner libation all by itself or on the rocks. Chill it on the rocks and drink it as a smoother alternative to bourbon or Scotch whisky. It's subtler yet more harmonious in a mixed cocktail than most regular rums. It's so fine, we love to sip it straight like a brandy/Cognac. Be sure to use your most elegant crystal glass.
At $29.99 for a 750ml bottle, Cruzan Single Barrel makes for an affordable, yet premium option for the holidays. It goes great with your favorite holiday fare – or even with deep dish pizza. Single Barrel is versatile enough to go with whatever you're serving this time of year. And it makes an impressive host/hostess gift when you're off to a party.
________________________________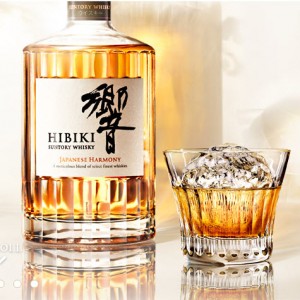 Hibiki Blended Japanese Harmony Whisky. Embodying the soul of Japanese craftsmanship, this harmonious blend resounds with calm complexity and "Wa", oneness. "Kanzen"or complete, Hibiki is a harmonious blend of many malt and grain whiskies meticulously blended to create a full orchestra of flavors and aromas. Seductive, blossoming and enigmatic, Hibiki celebrates the art of blending and fine craftsmanship and offers a sense of luxury in your glass. From the House of Suntory, prices range from $65 for Hibiki Japanese Harmony to $250 for Hibiki 21 Year Old. We are talking treating yourself, folks. Don't mix this whisky in a cocktail or you might miss the subtle pleasure provided by the masterful blending process. Plus the bottle is lovely; you might not even need a decanter.
_____________________________________________
Auchentoshan Single Malt Scotch Whisky is Scotland's only whisky that triple distills every drop, making for a spirit that is approachable (no smoky peat flavor) that works as well sipped neat/on the rocks as it is in cocktails (try the new American Oak, aged solely in first-fill American oak barrels). Prices: $40 for American Oak to $450 for 1988 Wine Matured.
_____________________________________________
Bowmore Single Malt Scotch Whisky is ideal for the smoky Scotch lover. Made in Islay's first distillery (since 1779), Bowmore offers just the right amount of smoke and sweetness to make this whisky a favorite for those who love that peat-infused aroma and taste. From the newest, recently launched Small Batch aged in 1st and 2ndfill ex-bourbon casks to the collectible Bowmore Black, Gold or White, Bowmore is one of the most well-known whiskies in the world and one of the most collectible. Prices: $40 for Small Batch to $650 for Port Matured.