Japan is known, among many other things, for its delicate paintings and its impressively ritualistic tea ceremony. But seldom in the U.S. for its whiskies.
Recently a long-time Japanese whisky maker merged with a famous U.S. group called Beam to form a new entity called Beam Suntory. The original Japanese company had been studying and implementing Scottish distilling techniques since 1923. But now they have a strong "in" to American tastes. After extensive experimenting, Beam Suntary has brought to market a whisky totally in tune with the Japanese style but informed with the experience of the Beam family (makers of Jim Beam, etc.) and the know-how of Scottish experts. It's known as
Hibiki Suntory Japanese Harmony Whisky
, and it's all about beautiful blending.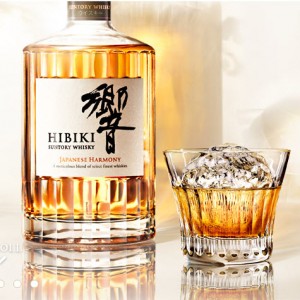 Recently at a lovely modern venue in West Loop known as Morgan's on Fulton, the Beam Suntory company showcased this latest innovative liquor. Packaged in a beautiful cut-glass decanter with 24 cuts to match what the Japanese know as 24 seasons, this light, delicate, oaky (it's aged in 5 different types of casks) but harmoniously blended whisky is likely to bring a smile to the face of Scotch lovers and bourbon lovers as well as whiskey lovers. It's delicate without being the least bit fragile (aromas of rose, lychee, rosemary and sandalwood, and notes of sweet candied orange peel and white chocolate on the palate). And it worked beautifully in several mixed cocktails served at the event. And then, Japanese attention to detail was apparent in the way the whisky was presented unmixed—with a hand-carved ball of pristinely clear ice in each glass. This method preserves the flavor and aroma by preventing too much melting to dilute the liquor–and it looks really cool. They make the ice in large square cubes, and the bartender hand-chips it into a ball.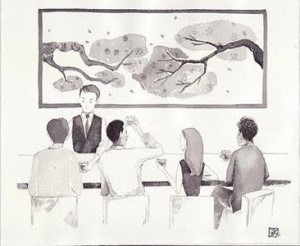 It's a beautiful sight, the glistening super-clear ice in the pale honey-amber-colored whisky. But they set it off even more by presenting a multimedia, interactive visual display known as the Hibiki® Japanese Harmony™ Bar. This fully immersive, interactive experience  is the first of its kind in the world. It takes guests on a journey through the richness of the Japanese seasons, the moving pictures of paintings (all by famous Japanese artist Shinsuke Kawahara) activated by each of eight participants picking up his or her glass and swirling it. Fluttering butterflies in spring and leaves in fall, snowflakes in winter and flowers and sunshine in summer. Each season was accompanied by appropriate Japanese-tinged musical interludes. The lights in the room were turned down so the visual presentation took center stage.
Leave it to the Japanese to create this exquisite way to enjoy a drink. Get some of this beautiful whisky for yourself (retail ~$65) or as a gift for a really good friend.