Start your Memorial Day with a delicious -and shockingly healthy – smoothie you can make at home. Much-praised Chef Lee Wolen of top-rated Boka Restaurant created this recipe and others using the unique flavors of Pure Leaf TeaHouse Collection of presweetened teas. When an 8-year-old says she's okay with raw kale in her smoothie 'cuz it tastes so good, you know you've got a winner.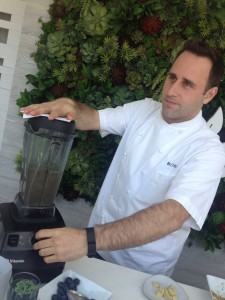 Apple Ginger Tea Smoothie with Blueberries and Kale
1 cup chopped kale
1.5 cup Pure Leaf Tea House Collection™ Green Tea Fuji Apple & Ginger
1 banana, frozen
1 cup frozen blueberries
1 tsp fresh ginger, peeled
1/4 cup almond milk
1/4 tsp ground cinnamon
Whirl everything in a blender until smooth. Garnish with chopped apple and fresh grated ginger.
Then, after you've digested that, and at a reasonable hour – say, eleven thirty-ish – pull out one of these lovely bubbly wines for lunch and toast your Memorial Day in earnest. Gorgeous bubblies like:
SEGURA VIUDAS RESERVA HEREDAD – an exquisite and aromatic cava (Spanish bubbly made with methode champenoise). You'll enjoy serving it from its pewter-embellished bottle, and its smooth taste pairs well with any grilled foods or other treats you decide upon. Should you be camping out, could there be anything better than a little bubbly with your S'mores? ~$25
LOS VASCOS ROSÉ 2015 – Bright, pale pink color. On the nose, aromas of strawberries, raspberries, cherries and pomegranates underscored by white chocolate and sugar syrup. The palate is fresh, balanced and persistent. ~$14
VALDO ROSÉ BRUT – a color like scarlet brush strokes on rose petals. Bouquet is of fine and elegant blossoms with a persistent presence of raspberry and a cascade of tiny bubbles. Altogether a pleasant round warm flavor with a charming fruity aroma. ~$14
PRIEURÉ DE MONTÉZARGUES TAVEL AOC 2014 – a pretty rosé wine with violet tints and a nice salmon color and an intense nose with white flowers. ~$24
THEN, you're probably exhausted so you'll want to just go out and let others wait upon you for dinner. Luckily there are dozens of downtown spots to take yourself and family and friends for dining al fresco. Here are a just a few.
Beatrix – River North, 519 N. Clark, patio and open window seats are perfect for sipping a fresh juice, specialty iced coffee or signature cocktail like the Mexican Iced Coffee and Malted Freddo, and the Habenero-Pineapple Margarita and Blueberry Tom Collins, both made with homemade fresh juices. The full wine bar has open floor-to-ceiling windows.
Spend the whole day if you like, with  breakfast, brunch, lunch and dinner served there, or pick up something from The Market to enjoy in the sun.
Hub 51, 
51 W. Hubbard, 
seats 35 outside. Nosh on your favorites like 
Pulled Chicken Nachos
 or the 
Kale & Avocado Salad
, while sipping on signature frozen drinks such as the 
Passionfruit Margarita,
while you sit back and watch the hustle and bustle of River North.
Osteria Via Stato & Pizzeria Via Stato, 
620 N. State,
 together seat
80 outside on one of the most active corners in River North. Just Bring Me Lunch at Pizzeria is about satisfying meals served quickly Mondays through Fridays. A three-course menu option (soup, sandwich, dessert) in a hurry for only $9.95 per person. Later, try the three-course Italian Dinner Party at Osteria, for $39.95 per person. Both restaurants offer wines-by-the glass and more than 300 Italian labels.
Bellyup Smokehouse & Saloon, 1132 S. Wabash, offers a Beyonce Boozy Lemonade for Memorial Day Weekend Friday, May 27 through Sunday, May 29 (CLOSED on Monday, May 30). 10 bucks for the lemonade cocktail special.