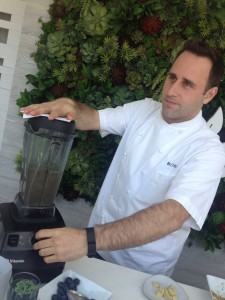 Besides the delicious smoothie recipe he introduced at the Pure Leaf TeaHouse Collection traveling tea house in Lincoln Park last week, Chef Lee Wolen applied his culinary flair to a few more recipes using their unique flavors of presweetened tea-in-a-bottle and fresh herbs to accent those combinations. Here's one that really appeals in the warm weather we're finally getting in Chicago.
Tea Off by Lee Wolen
1 ounce blackberry sage tea syrup
1/2 ounce lemon juice, fresh
1 ounce Pure Leaf Tea House Collection™ Black Tea Wild Blackberry & Sage (where to buy)
soda water
elderflower tonic water
2 crushed blackberries, for garnish
1 sage leaf, for garnish
1-1.5 oz gin (optional)
FOR THE SYRUP
8 ounces sugar
1 ounce fresh sage leaf
Combine all and reduce to a syrup, chill and reserve.
TO FINISH
Combine all ingredients except tonic and soda water in a glass with ice. Top the glass off with equal parts tonic and soda. Garnish with crushed blackberries and a sage leaf.