Lakeview is a bustling neighborhood of bars, restaurants, wine bars, dive bars, hair cutteries, and a hundred other types of places we all need to go periodically. I'm delighted to live here and happy to report occasionally on interesting developments in the local restaurant scene.
Ceres' Table now serving brunch. I've had some pretty good food in the past at Ceres' Table when they were over on far-north Clark. Now that they're  just starting to serve weekend brunch (10 to 2 pm), I'll be visiting them again soon at their 3124 N. Broadway home. I love their promo for their $5 Bloody Marys: "Because brunch without booze is just a sad  breakfast…" Check out the Brunch Menus.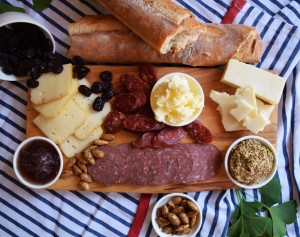 Pastoral Artisan Cheese, Bread and Wine, 2945 N. Broadway, has just introduced its picnics-to-go service. The Picnic Royale, serves up to four, goes for $99.99 and is described: "Earthy, nutty Pleasant Ridge Reserve (WI – raw cow), cakey and decadent Manchester (MI – cow), creamy Morbier-style Jeune Autize (FR – goat), smooth and lemony Driftless (WI – sheep), sweet Tamworth prosciutto (IA – pork), single-varietal Ames Honey, light and crisp Rustic Bakery Panforte, country olives, and individual Chocopods in surprising flavors (CA)." Then they've got  others designed to serve two, ranging from $39.99 to $69.99. Wines sold separately.
BUNS ON THE RUN: Wow Bao Lakeview's running club. Every Monday evening at 6:30 pm, meet in front of Wow Bao's Lakeview shop (2806 N. Clark St. at Diversey). Manager Julie Collier will lead runners of all experience levels along the Lakefront. She's training for the Chicago Marathon and plans to increase the distance incrementally each week. Run at your own pace—then when you get back, enjoy a complimentary glass of Wow Bao's refreshing ginger ale and a 20% discount on all food. Wow Bao is Lettuce Entertain You Enterprises' fast-casual Asian concept and is famous for its steamed—ahem—buns. Call with questions about the run 773-433-5333. For more information about the restaurant, visit www.wowbao.com.