Update: Ceres Table is now located at 3124 N. Broadway Street.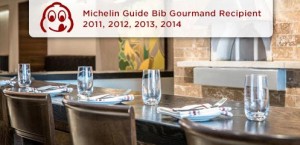 Ceres Table, 4882 North Clark Street, is located in a modern new building that sits across the street from some very quiet neighbors—a cemetery. It was raining the night we went so we couldn't take advantage of their charming outdoor sidewalk space lit with tiny white lights on the tree growing through the sidewalk.
It's off the beaten path for sure. Who knew that a truly gourmet Italian restaurant could be found in a far north corridor of Chicago? But since I'd already been impressed with the creative specials at Ceres Table, when a colleague reported having had an exceptional dining experience I was very pleased to get there for dinner one evening.
The décor is austere. Nice materials in clean lines, with no tablecloths or curtains—perhaps designed to help diners focus on the food. As the menu tells us, Ceres, the Roman goddess of the harvest (and also of mother love), was reputedly born in Sicily, like Giuseppe Scurato, the owner and chef at Ceres Table. We were happy to meet the chef very briefly after our hostess/server had seated us.
The menu here is clearly a reflection of its chef's inspirations. Just a single example of an appetizer—squash blossoms, battered and fried and stuffed with mozzarella and anchovies—lets you know you're not dealing with a typical red-sauce Italian restaurant. How about saffron rice balls stuffed with braised goat, peas and taleggio cheese? A strictly Italian cheese made using a technique called smear ripening—a unique method also used with a French favorite of mine, port du salut—I find just reading about taleggio cheese makes me want to go back and try that appetizer. And that's true of any number of other unique dishes we didn't have a chance to try that night.
We are assuredly not in Kansas anymore, Dorothy.
Our server explained the menu—appetizers on the left, main courses on the right. Partway down the left side I found my appetizer of choice: shrimp crudo, made with laughing bird shrimp (environmentally friendly crustaceans recommended in a NY Times article) marinated—rather like a ceviche—in a citrus vinaigrette with clementines, hot peppers, celery leaves and fennel. The dish was served down the center of a beautiful rectangular plate and was deliciously refreshing.
My companion started with the seafood salad, a mixture of unique fruits of the sea that were cooked just until firm, not toughened, and included shrimp, mussels, claims, seppia (cuttlefish—a favorite in Italy), and baby octopus, all seasoned with parsley pesto and lemon. This dish is all about the seafood, so the seasoning definitely takes a subordinate place. We ordered a Malbec from Argentina that was decently priced and very good, though perhaps a little heavy for the dishes we chose.
Our main courses arrived in good time. But we were surprised, while waiting, to hear our server describing to the table next to us some specials of the evening that we hadn't heard about, including fresh green beans which I'd have loved to try had I known. As we hadn't felt particularly welcomed when we first arrived, this extra omission made us feel a little left out. Yet my companion, who'd eaten here a few weeks previously, reported having had excellent and attentive service, so your experience may depend on the night you go.
My friend ordered the grilled quail which came marinated and grilled. The quail—with those little tiny bones!—was tasty but a touch overdone. She really enjoyed the small serving of panzanella salad—a salad made out of bread!—that came with it.
My main course, the seafood mixed grill, was a standout. A generous slab of meaty swordfish had an ever-so-slightly rubbery texture but great taste. The accompanying seppia and gulf prawns were delightfully seasoned, had a bit of spice, and were perfectly cooked. The sambuca roasted potato slices were positively mouth-watering. The frisee (chicory) leaves on top made a just-right, crunchy-bitter complement to the succulent seafood and potatoes. The chef came out to check on us during our main courses—I only hope someday he'll share how he prepares this dish!
We were excited about the dessert menu and had a hard time choosing. My friend, a die-hard devotee of raspberries and chocolate, chose the ice cream sandwich. Described as chocolate cookies and raspberry ice cream with hot fudge and chocolate chips, the two dainty sandwiches were filled with vanilla ice cream with real raspberries. Everything tasted good, but the chocolate cookies were frozen almost too hard to cut through. The suggested pairing of Prosecco di Valdobbiadene was a perfect complement.
When I saw "corn cake" on the menu my curiosity got the better of me. I've always loved good corn bread that was a little sweet, so I thought I couldn't go wrong with this. The corn cake was, indeed, sweet but also meltingly tender, rich and fine-crumbed. It was served with dribbles of cilantro oil—a taste I thought might be overwhelming but was instead very subtle—and with several puffs of caramel popcorn tossed on the plate. Very original. I enjoyed every bite and scraped the plate to get the last taste. The suggested pairing of Niepoort 20-year-old port put the whole experience over the top.