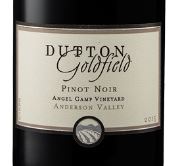 New wineries are birthed all the time these days, what with global warming making climates around the world noticeably warmer. And for vintners in California, the vast selection of terroirs makes it easy to make many different expressions of grapes grown there. Recently received samples from a new contender that's breaking out with multiple beautiful expressions of luxury Pinot Noir wines. Can't go wrong with these lovelies.
Dutton-Goldfield Winery,
located in the heart of Russian River Valley in CA, makes wines with the brightness of fruit, complexity, structure and balance you'd expect from grapes grown in this cool coastal neighborhood.
The partners, Steve Dutton and Dan Goldfield, each came to winemaking from a completely different direction – Steve from farming and Dan from chemistry – but their partnership has manifested itself beautifully in their work with their now-over-80 vineyards comprising 1000 acres. They grow many different grapes and make small quantities of many different varietal wines, but they specialize in Pinot Noir and Chardonnay. Their Pinot Noirs comes in multiple expressions each year to represent all the different vineyards they own. See the full list of
current Dutton-Goldfield releases here
. Their Chardonnay is a delightful treat, as an aperitif and with meals. The
DG Wine Club
is a way for members to connect with the history and knowledge of the founders and to guarantee their own supply of DG's single-vineyard, limited production wines all year. Below are winemaker notes on some of their new releases with links.
Pinot Noir 2017, Azaya Ranch Vineyard,
Marin County. Black raspberry, plum and Bing cherry aromas with undertones of thyme and sandalwood. The palate shows boysenberry, blueberry and raspberry, with cinnamon and nutmeg notes. Perfect with earthy dishes. 360 cases produced. SRP ~$62.
Pinot Noir 2017, Angel Camp Vineyard
, Anderson Valley. Aromas of dusky plum, with back notes of brambleberry and sandalwood, along with violet floral accents. In the mouth, sweet plum and wild berry fruit are underlaid with black tea, peaty earth and spice box. Round and soft tannins and a creamy finish complete this elegant wine. Serve with earthy foods. 364 cases produced. SRP ~$62.
Deviate Pinot Noir 2017, Sonoma Coast
. Bold aromas of black cherry and black raspberry, with accents of tobacco, thyme and licorice along with violet floral notes. Mouth-filling with rich brambly berry flavors. Drink now or let it unwind, in the glass or the bottle. Black raspberry with black tea notes. the firm tannins carry it to a long, sandalwood-laced finish. Intense wine that pairs well with bold flavors like beef, hot peppers, lamb stew, duck curry or peppery cheeses. SRP ~$72.
Pinot Noir 2017 Docker Hill Vineyard, Mendocino County
. Deep and layered. Aromas of black cherry, blackberry, sandalwood, and peaty earth with a base of tobacco and black tea. Taste sweet blackberry and boysenberry that lead in waves to the long, creamy finish. Pair this robust wine equally sturdy foods like ribs, sausages or cumin lamb kebabs or creamy, tangy cheeses like herbed goat cheese or young pecorino. 402 cases produced. SRP ~$68.
Pinot Noir 2017, Dutton Ranch/Emerald Ridge Vineyard, Green Valley oF Russian River Valley
. The nose alerts you to this wine's intensity with packed aromas of blueberry, blackberry, raspberry and cherry, rolling like waves after each other. Then berries and cherry compote join sandalwood, cinnamon and a sweet-earthy beetroot on the palate. Firm round tannins are ready now but will keep broadening with time in the bottle. Put this on the table with rich dishes – lamb or game birds with herbs or mushrooms, or with tangy cheeses like manchego. 671 cases produced. SRP ~$68.
01Incidentally, this is only a sample of the selection of beauties from this winery. Explore the
Dutton Goldfield website
and let your tastebuds tingle as you make your selections. These people do a great job.