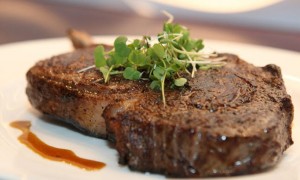 You walk in from the busy street, up a few stairs to the front bar of Quay Restaurant and Lounge. Nice sports bar atmosphere with dozens of televisions in case you get bored or want to watch a game with friends. But if you're not into that, all the passersby on their way to Navy Pier keep the sidewalk view lively on weekends.
Décor is clean and modern, and then you notice a striking feature—a seemingly endless wall sculpted in wavy ridges that lines the entire left side of the restaurant. Despite occasional interruptions where another texture like, say, a rough-hewn wood beam, breaks the line, the wall carries your eye from the front bar all the way to the mirror at the end of the passage that makes the wall seem even longer.
We asked for the room with a view, so our host led us down the long hall to the quay-side lounge. On the way we passed the dining room. It was low-key with warm subtle lighting emanating from great columns enclosed with diffusing material that looked like bronze-y capiz shell. Tables were arranged with generous space between them, and the atmosphere looked quiet and casually elegant.
Later we noticed a shell theme in the bathroom, too, where floors are inlaid with iridescent white shell-looking tiles—a unique look that, combined with the row of stainless steel sinks lining a mirrored wall, makes you feel you're in an elegant hotel powder room rather than a restaurant bathroom.
The quay-side lounge sits across the width of the restaurant, looking out onto trees lining a small branch of the Chicago River, and has its own bar. It reminded me of someone's modern but comfortable back porch—bright with sunlight and airy with open windows (it was one of those gorgeous late-summer days in Chicago). The window view is lined with tables for two, and along the wall are several cozy bright-orange couch-and-table setups that seat two to six people. One of Chicago's popular architectural boat tours has its landing right at the foot of stairs that come out the back of Quay's lounge. While we lunched we watched the boat fill up, take off, and return.
In the spirit of coziness we sat in a couch nook. The drink list has a nice selection of decently priced reds and whites, some good ones by the glass, as well as beers and liquors to satisfy almost any taste. The bottle of the Santa Margherita, Alto Pinot Grigio we ordered was beautifully chilled; it tasted of the joys of a warm summer day.
Our waitperson worked hard at opening the bottle using the waiter's corkscrew—it looked like she might not make it so I suggested she set it down on the couch to steady it. She said, no, we have to learn to do it this way; I practice on all my friends! That was the kind of friendly, relaxed attitude of everyone in the restaurant; yet we got totally professional service throughout our visit.
We trusted our server's recommendations for appetizers and were not disappointed. We shared an order of the mussels steamed in Chicago's own 312 Ale—dark, rich broth with lemongrass and chives that we couldn't get enough of. We dipped the several kinds of bread in it and then asked to keep it on the table to dip our potatoes and more bread in during our meal. The roasted beet salad was simple and good—the light, white vinaigrette dressing went very well with the bitterness of the watercress and arugula and the sweetness of the red onion and beets.
My companion ordered the salmon with smoky beans, bacon and rapini (also known as broccoli rabe or broccolini). The salmon was perfectly cooked; the beans salty and flavorful, a surprisingly nice combination, and the deep green crisp-cooked vegetable had a bitter touch that complimented the richness of the beans.
I ordered the Seafood BLT—it sounded so original. And it was. A generous mixture of little shrimps and scallop and crab chunks, dressed with a pink roasted red pepper mayo that tasted deliciously homemade, was served with bacon on thick slices of toasted brioche. Num. It came with a massive portion of nicely browned though slightly dry French fries that I couldn't finish. In fact I couldn't eat all the sandwich either. So I asked for a doggie bag—and ate the remainder for dinner that night.
Since we'd heard that Quay had a fabulous pastry chef, we opted for dessert. After our server gave us a lively and enthusiastic description of each option, we selected the goat cheese cream cheesecake and the Banana Tres Leche cake. My friend enjoyed the dense cake soaked in custard, topped with whipped cream and served with roasted pineapple and a light caramel sauce. But it couldn't compare to my dessert.
It's hard to describe how delicious that goat cheese item was—the goat cheese mixture sat in a perfectly rounded mold atop a wafer thin slice of what I think was white chocolate, with homemade peach jam smeared out from one edge in the nouveau cuisine approach to presentation and a line of peach jam topped with almond crumble out from the other edge. Light yet rich, sweet and tart, smooth and crunchy—a feast of contrasting textures and flavors that I will go back for. I secretly wanted to lick my plate clean like I used to do with ice cream when I was a little kid. The baklava straw topping it and the dark Rainier cherries on the side almost seemed like afterthoughts. The dish was a masterpiece even without them.
By the way, the descriptions for each item on the Quay menu are unusually helpful—unlike many menus that leave you wondering what they really mean. And we appreciated the extra "color" our server supplied in her explanations.
Address: 465 E. Illinois. Look for the elegant black awning out on Illinois—Quay is located in the huge red brick building known as the River East Arts Center.
Phone: 312.981.8400,  Email: info@quaychicago.com
Parking: Across the street underground and Quay will validate your ticket so you'll pay only $10 (for up to four hours).
CTA/walk:  Half a mile from Michigan or catch the CTA bus 29 at Illinois to Navy Pier.
This place is definitely worth a trip—if for the goat cheese cream cheesecake alone!