It's officially open: The Rabbit Hole bar and restaurant,
1208 N. Wells St.
, right off Division St. in Old Town. It's a small storefront with a roomy interior and a stage for live music. The walls, painted to make you feel like you're following the White Rabbit down the hole in 
Alice in Wonderland
, and the many craft and draft beers, whimsical cocktails and wines are an invitation for you to go ahead and fall in.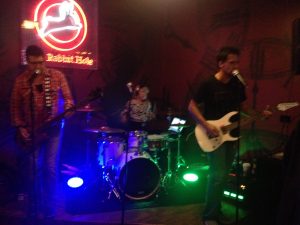 On opening night they had a live band for karaoke. Seriously. If you are a wannabe singer, singing with real musicians behind you and the words in front of you has to be – as the saying goes – the most fun you can have with your clothes on. And on top of that, they serve elevated bar food that includes sharable appetizers, hearty salads, "grabbers" (otherwise known as meat-heavy platters), and an assortment of sides. Chicken Wings come with your choice of house buffalo, shogun sweet chili, Chef Diablo's habanero or pomegranate BBQ, served with tri-colored carrots, jicama, house made ranch or bleu cheese. Other items: marinated Steakhouse Minis, The 1951 Burger, Queen of Hearts salad, and Jabberwock Angus Sliders. Try starting with Candied Slab Bacon – thick cut, Applewood smoked slab bacon, grilled and glazed with maple syrup.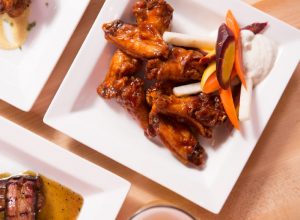 And what fun that they have games – like large-scale Pictionary – you can play with your friends any and every night of the week. The Rabbit Hole has set a goal to become the new favorite go-to spot for everyone in the 'hood. It's certainly off to a grand start.
Craft and draft beers include 24 beer taps and a host of canned and bottled brews. Cocktails by beverage director Carlos Guerra have memorable monikers like the smoky White Rabbit on a Dirty Mule with Mezcal, ginger beer, lime juice, Jägermeister, and grapefruit juice, or the delicate yet complex Tweedle Rum with rum, rye, coffee vermouth, coconut, Fernet Dogma and cinnamon, to name just two.
A sports-friendly bar, with ten large screen TVs, it also serves as a distinctive backdrop for the viewing of any game. Live Band Karaoke on Wednesday evenings beginning at 9pm.