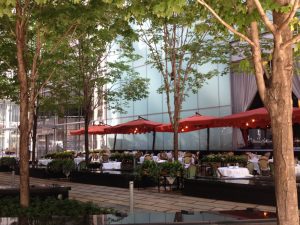 Tucked into two floors of a beautiful building at 1 S. Dearborn, Rosebud Prime's entrance is set off from the street and sidewalk by an elegant patio and a sculpted garden of lovely trees. Charming red umbrellas and crisp white tablecloths look dramatic and inviting – even from across the street – and strongly suggest you'll be treated royally when you pull up a chair outside. The many small trees give the patio a sense of privacy that's amazing in the middle of downtown Chicago. Inside the restaurant, it's all warm wood and comfortable elegance.
Known as a power lunch location, Rosebud Prime is famous for its steaks and seafood specialties. And now they're making it even easier to spend time with them; they recently introduced a menu of delightful breakfast items. Many are unique to Chef Anthony Reyes, including items like oatmeal brulee served with cream and dried fruits, vanilla crunch French toast made with his mother's secret ingredient, crabcake Benedict, a yogurt-granola parfait made with super-creamy Greek yogurt from the hands of a friend-of-the-owner's-family, and more. Chef shows his passion in Rosebud Prime's lunch and dinner menus, and the new breakfast menu is no exception. Of course, you can also simply enjoy a fresh croissant or bagel and freshly brewed coffee if you like a smaller morning meal.
Powermongers, here's a classy new place to have breakfast meetings. And come, all ye ordinary citizens, too. and find yourself comfortable and catered to in this prime location restaurant. Caution: If you're looking for nouvelle cuisine, fuhgeddaboutit. These are Italian people putting good food on the table, and they do it with gusto.
The restaurant provided a meal to facilitate this review. Opinions are strictly those of the writer.