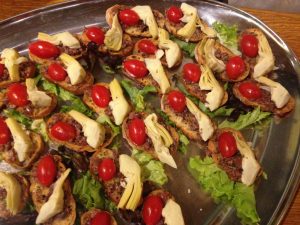 Remember retsina from the 60s and 70s? It was the only name most Americans associated with Greek wines back then – and it wasn't usually a pleasant link. But this year, the Wines of Greece brought a collection of winemakers and wines to City WInery in Chicago's West Loop that dramatically changed a lot of people's opinions about Greek winemaking.
For one thing, Greek winemakers have picked up on many trends in global winemaking – and have even begun growing and blending with classic grapes like Cabernet Sauvignon and Merlot. Their wines tend to be fresh and acidic, but many are making wines that hold up well to aging even as long as a decade. What a difference a few years can make.
In terms of white wines, our favorite new grape from Greece is Assyrtiko. Lovely and so flexible in terms of the types of wines that can be made from it, many delicious with no other blend, but many others beautiful with various combinations of Chardonnay or Sauvignon blanc and other grapes indigenous to Greece
In the red category, a favorite new Greek grape is Agiorgitiko (ah-jor-git-ee-ko). Be sure to pronounce it correctly – as one of the reps explained to someone who asked, if Americans can learn to pronounce Gewurtztraminer, they can learn to pronounce Greek grape names! This grape, too, makes some lovely wines on its own or in blends with indigenous Greek grapes like Kydonitsa, Moschofilero and Xinomavro.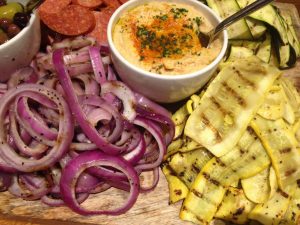 We were more than pleasantly surprised at the quality of the wines at this event. It was a unique  educational opportunity to experience the viniculure of a country that has not previously been known for fine wines. Since my daughter lived in Greece for almost a year while on her world tour back in the late 90s, it's an extra special  pleasure to see how far the country has come in creating delicious wines. You'll need to consult with your wine vendor or Binny's to see about getting particular wines through the importers. Here are a few that stood out at the tasting:
Tsantali Rapsani Reserve Red 2012. ***** This vineyard is in northern Greece, near Italian vineyards that grow Barolo. Grapes: Xinomavro, Krassato, Stavroto. Imported by Fantis Imports, Inc.
Domaine Costa Lazaridi Amethystos White 2016. ***** Grapes: Sauvignon Blanc, Assyrtiko. Serve this 5-star lovely with seafood or grilled fish. Imported by Nestor Imports, Inc.
Argyros Estate Atlantis White 2016. ***** Grapes: Assyrtiko, Ahtiri, Aidani. This blend contains 90% Assyrtiko yet takes on just the right subtleties with the small addition of 5% of each of the other grapes. Imported by Athenee Importers.
Wine Art Estate Idisma Drios Assyrtiko 2016. ***** Grapes: Assyrtiko only. Compare this to a dry Riesling and enjoy the same ways.
Lantides Winery Nemea Lantides 2012. ***** Grapes: Agiorgitiko only. This wine can be aged up to 10 years. It's excellent for an aperitif. The winery grows 60-70% of its own grapes and buys the rest from trusted sources. Imported by Dionysos Imports.
Greek Wine Cellars GWC Santorini 2016. ***** Grapes: Assyrtiko only. Grown from really earthy old vines. Volcanic soils and the nightly sea mist mineralize this wine. Imported by Fotis & Son Imports.
Domaine Hatzimichalis Estate Hatzimichalis Lefkos White 2016. **** Grapes: Sauvignon Blanc, Malagousia, Robota. This vineyard is located one hour north of Athens. Serve this white with grilled chicken, fresh salads or pork. Imported by Fantis Imports.
Bairaktaris Winery Old Monolithos Red 2012. **** Grapes: Agiorgitiko only. This wine is the epitome of old-world winemaking and the commitment to making wines that taste of their place. Pair with pork, steak, burger, or aged yellow cheese.