Magnolia Bakery, 108 N. State St #128, home to some truly delicious cupcakes, has a bright idea for back-to-school fun–personalized image cupcakes. Think about how fun it might be for a kid to take her new teacher a super-luxe frosted cupcake with the child's picture on it?  Even  if the teacher is a hidebound, I-never-eat-sugar type, s/he's bound to enjoy such a charming and thoughtful gift.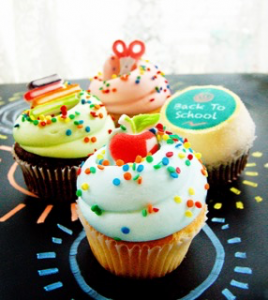 Or how about you give your first-time-in-school grandson one with a picture of his mom or dad or even yourself on it? So he'll know you're with him in spirit.
 Here's the deal: One week before you want to give it to your giftee, you provide the friendly folks at Magnolia with a picture of whatever you want to appear on the cupcake–even the kid's favorite toy or a pet–and they print it out on edible paper. When you pick it up, the image that comes out on the cupcake looks identical to the picture you provided.
I can even imagine putting the kid's picture on one and having him give it to his mom–and telling her "This is so you won't miss me so much!" But hey, this idea sounds great for lots of other occasions, too. How about a child's or friend's photo on birthday cupcakes? Or a family picture on holiday cupcakes? At $5.25 apiece, this is a unique and affordable gift.
P.S. Cupcakes with cute, back-to-school decorations (see photo) and that fabulous buttercream frosting are $3.50.
And while you're at it, how about some free pre-printed lunchbox notes you can surprise your school-age kid with?  Did your mom ever put a note in your lunchbox? I don't think mine did. What a neat idea. Check these out at bydawnnicole.com.
Related articles