The space at Mago is expansive. Almost a suburban type ambiance – spacious, modern, colorful. But the food is quite a few levels above what you usually find in a typical suburban establishment.  Perfect for savvy sophisticated millennials, yet totally family friendly. The tables are set far enough apart that you have real privacy for your conversations. Ideal for ladies who lunch and want to shop at a few upscale shops afterwards, or for baby boomers looking to enjoy an excellent meal and some good conversation. The space is open and welcoming enough that almost anyone will feel comfortable.
It was fun perusing the menu – both the Hanukkah specials and the regular items. We greatly enjoyed the homemade taco chips with three types of salsa – mild, medium and really hot (made with sesame seeds). Our server Ageo was most helpful explaining the menu and making suggestions. We tried a few things specifically at his recommendations and they were excellent.
For starters we tried, at our server's recommendation, the empanadas. Excellent choice. A delicious crust with a great deal more character than most we've tasted before. The shrimp empanada was especially flavorful – tasted like shrimp of the highest quality roasted to perfection. Crispy turnovers served with frisee, queso cotija and crema Mexicana, in a choice of ground beef picadillo with chimichurri, chicken tinga with roasted tomato salsa, or tequila shrimp with habanero salsa. And you get to choose one each of two choices. Lovely!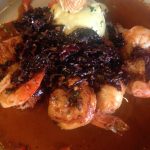 The Camarones en Chile was nicely roasted shrimp in a savory poblano pepper sauce, served with special chunky mashed potatoes and a huge pile of roasted poblano peppers, all bathed in a succulent brown sauce. Delicious.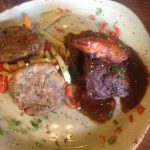 The short rib – a regular menu item – was dressed up for the Jewish holiday. Tender, richly browned and served with a rich, thick, dark mole sauce and a chunk of grated, seasoned plantain that was fried crisp and tasted amazingly good. As a side, the chef prepared potato latkes and added cilantro to honor Hanukkah and give them a Mexican touch. This dish smelled and tasted so good that my granddaughter came home from school and immediately consumed the leftovers.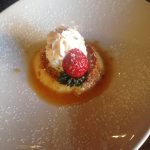 The flan of the week was coconut – incredibly thick and not too sweet and loaded with coconut, drizzled generously with rich caramel sauce and topped with a big beautiful pile of whip cream and a strawberry. It was served in a huge dish dusted with powdered sugar. No problem polishing off this gem all by myself.
This was one of our favorite recent restaurant meals  – and so surprising for a weekday lunch. Felt like a 4-star dinner. Mago Grill & Cantina is well worth a trip for its creative approach to blending cuisines and its commendable attention to the details of execution that take dishes several notches above the usual.
Mago Grill & Cantina is located at 1010 S. Delano Court East. The place is a breeze to get to. CTA buses and trains are a short walk away. And if you drive, no need to fight downtown traffic hassles. Take Lake Shore Drive to Roosevelt or the Dan Ryan and pull right in. The shopping mall has ample underground parking – no need to stress on that score either. Go here. We will be back with friends very soon to try more dishes on the menu.