There's a new contender in town on the Chicago upscale chophouse restaurant scene. Mason, 613 N. Wells St., located at street level in the Found Hotel in River North, has put a lot of effort into getting it right, right from the start. Having just opened last Thursday, they've been conducting a massive introduction to the city by holding a series of invitation-only evenings for industry observers and others in the business this week.
The ambiance is first class: dark walls, handsome oil paintings, many subtly lit by individual accent lights, and a different type of beautiful lighting in each part of the room. Each table holds its own shaded lamp, too. Despite a few minor timing issues, the service was very successful. – friendly and helpful – on an evening when all tables were full.
Our server recommended a wine, Balancing Act, a Cabernet that opened up beautifully after decanting, and that turned out to be the perfect pairing with our meal. Even though we ordered some seafood appetizers, the dishes had enough power that the wine worked well.
The menu apears to contain a carefully orchestrated selection of at least one item among apps, soups, salads and entrees designed to appeal to lovers of almost any type of meat, poultry, seafood or vegetarian fare.
In terms of appetizers, you almost couldn't beat the Spiced Shrimp with parsley and Filipino-Cajun spice ($22). The sauce – wonderfully subtly, spicy, complex, and very lightly thickened – bathed a generous helping of large, whole shrimp, heads on, that were perfectly cooked and absolutely delectable. A couple of slices of deeply grilled crustless but substantial white bread on the side made a perfect way to get every drop of that sauce.
The crabcake – single because it's really big ($21) – came out nestled in a pool of lobster bouillon and covered in tiny, crispy shreds of sweet potato. My companion, who orders crab cakes everywhere she goes, would have liked the cake to have a bit more crab. The potato crispies were fun, if a tiny bit salty. The kale salad ($12) was exceptionally good. We loved the fact that they mixed different types of greens with the kale – the combination kept the kale from being overwhelming – and the salad was served with just the right amount of a delicious anchovy-mustard vinaigrette dressing.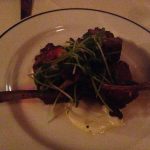 The lamb chops ($48) were delicious and presented beautifully on the plate. The 25-ounce ribeye steak ($65) had a char on it that was, frankly, amazing, given we'd ordered it – and it was delivered perfectly as ordered – medium rare. The bordelaise sauce option we chose was rich, deep and red-winey. The serving of meat was quite generous, so we ended up taking home a good chunk.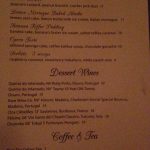 Desserts were creative, from the Creme Brûlée with popcorn custard, peanut biscotti and Cracker Jack dust, to the Banana Toffee Pudding and the truly unique flavors of sorbet. The after-dinner drink menu was a nicely curated selection: two port wines, a Sauternes, and a few other tempting desert wines. Delicious and reasonably priced. Service was a bit slow at times, but in truth, it gave us time to enjoy and digest each course. In the end, our dinner was unusually relaxed.
Many hours of preparation and planning went into this new place. The lighting is exquisite, the dark walls comforting, the beautifully framed antique-style paintings, soothing. All of it together makes a perfect environment in this white tablecloth restaurant which, if the opening nights are any indication, is going to make a serious mark on the scene.
And in case you're in the mood for more entertainment after dinner, the owners John Terzian and Brian Toll have also introduced the Chicago iteration of their cool LA karaoke bar called Blind Dragon in the basement of the Found Hotel (another location in Scottsdale). What an idea – after a marvelous dinner to continue your evening down the stairs with some Asian-inspired cocktails and some passionate singing!