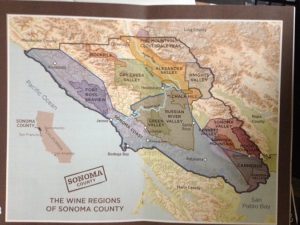 California was the original US player in the global wine market. And now individual regions, just as in France, have become stars on their own. Everyone knows about Napa Valley. And everyone has heard of Sonoma – in fact, many say the two in the same breath, "Napa-Sonoma" to describe the richest wine terroirs in the state. And lately, Sonoma County – roughly 1700 square miles that is home to about half a million people – is taking pride of place as a truly innovative leader in the wine world.
Sustainability is a question on everyone's mind, especially in these days of increasing global warming, and Sonoma County Winegrowers are behind that concept in spirit and in fact, in no small measure because of their trade association president. This dynamic woman, Karissa Kruse, came to Chicago recently to talk about the exciting news going on in their region.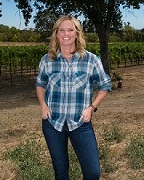 Kruse is a petite blonde beauty with the education, experience and passion to make her the ideal flag carrier for Sonoma County Wine Growers. She used to be a Chicagoan and still loves to visit, but has now gone completely over to the California wine country lifestyle. She is passionate about helping the members of her association become more effective at sustainable growing and helping make wine an even more powerful force for good in the world.
Hosting a group of trade and media at a beautiful semi-private dining space at GT Prime Steakhouse, the trade president glowed as she talked about the exciting initiatives she's helped spearhead on behalf of Sonoma County Wine Growers. One of those is the move to have every single vineyard in Sonoma County be certified a sustainable growth vineyard by 2019. This will be the first entire region to be certified in the United States and possibly in the world. Sustainable farming requires a commitment – of faith and of resources – to make it happen and keep it going. Kruse was a driving force in getting the wine growers to understand how critical it is to make that commitment in spite of what might appear to be insurmountable obstacles like cost.
Many compliments to the serving staff and the culinary team at GT Prime steakhouse where Sonoma Winegrowers presented their wines with a carefully curated selection of dishes. The Dutton Estate 2017 Kylie's Cuvee Sauvignon Blanc from the Russian River area (just grapefruity enough, yet much smoother than a typical New Zealand SV), and the sustainably grown Lynmar Estate 2016 Quail Hill Chardonnary were delectable with all the first course choices, which included Tuna Tartare, House Gem Salad (strawberries, snap peas, manchdgo) and a Kale Salad with sweet cherry tomatoes, brioche croutons and white anchovies).
The second course choices were Prme Beef Tenderloin, Halibut with lobster, fennel and corn, or Roasted Green Circle Chicken Breast with chipotle buttermilk, cucumber and onion rings. Along with the entree GT offered shared sides of Shishito & corn with parmesan sauce, lime and paprika, French-style mashed potatoes with chives and olio verde, and Brussels Sprouts with maple butter, prosciutto and peppercorn. All this was paired with two Sonoma reds.
The final course, a lovely selection of cheeses from Michigan, Wisconsin and France, was beautifully complemented by the Ridge 2016 Pagani Ranch Zinfandel.
Altogether, an uplifting evening of California Sonoma winemaker passion and energy shared with winelovers in Chicago – another perfect pairing.