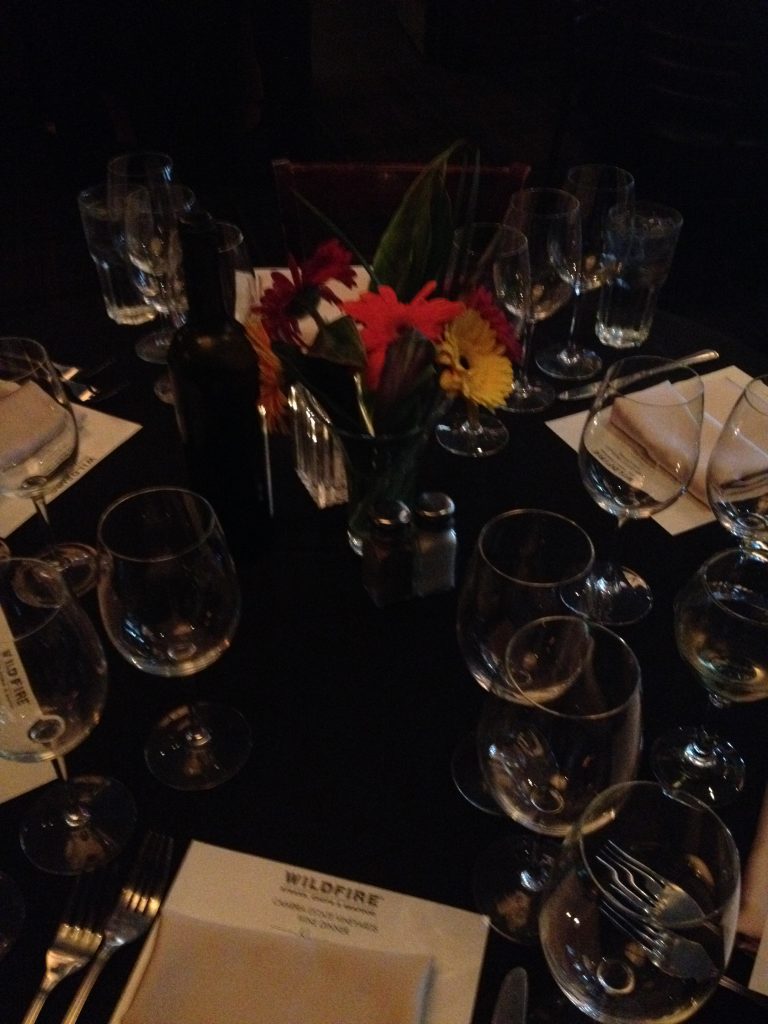 Ever been to a wine dinner? They go on around the city all the time, yet can be quite different. Naturally, the featured wines are important. And, of course, the chef-inspired menu is critical. One of the best we've run across for consistently good menus and consistently generous pours is Wildfire's wine dinners, 159 W. Erie in downtown Chicago.
Their most recent one, held in late July in Wildfire's private party room, featured selections from Cambria Estate Vineyards including a lovely "Tepusquet Vineyard" Viognier 2014 served with creative appetizers – watermelon tuna tartare with sriracha mayo on an herb cracker and grilled plump shrimp "lollipops" to dip in spicy passionfruit sauce.
Next came a generous cut of grilled white sturgeon in a rose-colored peach-butter sauce paired with Cambria's "Benchbreak" Chardonnay 2014, a light, unoaked white with notes of tropical fruits. Delicious. And compliments to the chef on his handling of meats – the mustard-crusted beef tenderloin practically melted in your mouth.  We urge you to give Wildfire a try next time they do a wine dinner, usually priced ~$80 to $90 plus tax and tip. They do one almost every month, except for August when they're doing a beer dinner and holiday months November and December). Check out the Joel Gott wine dinner coming up September 20.
Da Vinci Restaurant, 1732 N. Halsted, is another restaurant that does slightly more affordable (~$50 +tt) but also highly enjoyable wine dinners. Coming up August 10 with Zito wines look for antipasti, pasta – in this case, penne with zucchini, tomato, goat cheese stuffed zucchini flower) – secondo, and dessert. The restaurant itself is broken into multiple cozy dining areas and the wine dinner usually takes place in one of those that fits the number of guests. Friendly service, nice lighting, comfortable ambiance.
And for those who love their beer, aptly named Goose Island Brewery, 1800 N. Clybourn, this summer got rid of its wine & spirits license to become a strictly beer restaurant. Besides carrying a really large assortment of all types of beers, from stouts to ales to lagers, they worked hard on expanding what you can do with beer. Imagine drinking a "bocktail" with your brunch. Choose from a Sofie Mimosa (Sofie lager and orange juice), a Michalada (tomato juice, lime, cayenne, celery salt and SPF), a Peach Wit Shandy (lemon juice, peach syrup, Willow St. Wit) or a Beer-rita (lime & organge juice infused with cilantro & jalapeno, All Purpose IPA).  The servers are well-versed in their listings and can help you figure out what you might like. Serving lunch, brunch, pub fare, burgers, greens and soup and more.